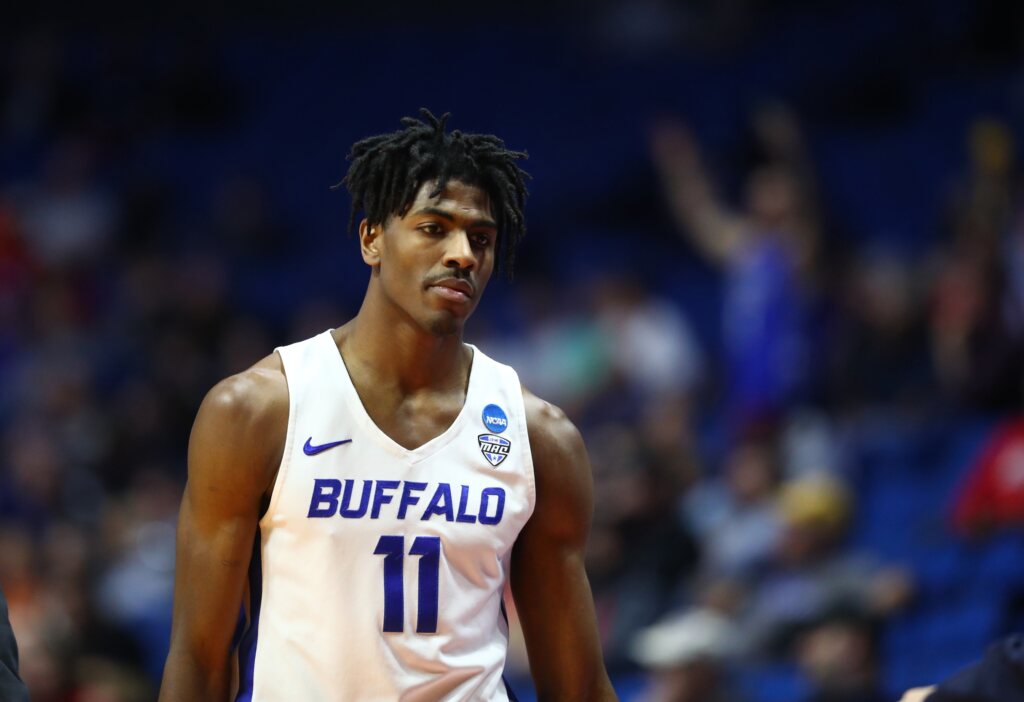 Courtesy of UBBulls.com
Behind career highs of 28 points and 12 rebounds from junior Jeenathan Williams (UPrep), the University at Buffalo men's basketball team opened the 2020-21 season with a 74-65 victory over Towson as part of Bubbleville at the Mohegan Sun Arena.
It had been over 260 days since the last time the Bulls took the court and they showed energy from the opening tip, forcing Towson into 12 first-half turnovers. UB struggled to find its shooting touch, but it didn't matter as the Bulls got plenty of career performances.
That performance was highlighted by Williams, the Rochester, NY native, who scored a career best 28 points on 12-of-22 shooting.  He added a career best 12 boards and two assists.
Senior Jayvon Graves, who was named a preseason All-MAC first-team selection also scored 20 points, while chipping in six rebounds, five assists, and five steals.
UB led for nearly the entire 40 minutes as Towson had just one lead at 7-6.  From there, Buffalo went on a 7-0 run, capped off on a layup from Williams. With the Bulls ahead 26-22, Buffalo went on another run, scoring the next 11 points, seven of those coming from Williams, as the Bulls pulled ahead by 15.  A pair of free throws from junior Josh Mballa gave the Bulls their largest lead of the game at 41-23 with 16 seconds left in the first half.  Buffalo ended up taking a 41-25 lead into the break.
Towson came out of the break and scored the first nine points of the second half to pull within seven, but a Williams jumper ended the run.  UB began to pull away late in the second half on a pair of highlight plays.  The first was a perfect alley-oop pass from Ronaldo Segu to Graves on the fast break and the next was another dunk, this time courtesy of Williams as Buffalo regained a 66-50 advantage with 5:28 left.  UB held the double-digit lead until the final 10 seconds when Towson hit a final three and UB dribbled it out for the 74-65 win.
In addition to the big games from Williams and Graves, senior Brock Bertram also started his senior season off with a career day as he set personal bests for points (8), rebounds (12), and blocked shots (4). Mballa finished the day with six points and eight rebounds.
Segu finished the day with seven points, five boards, and three steals, while junior Tra'von Fagan knocked down his first career triple and had three points and an offensive boards.  Senior David Nickelberry finished with two points and rebound.
The Bulls, who led the nation in rebounding a year ago, began this season with 46 boards, opposed to 43 from Towson.
"I am just extremely grateful to be back on the court with this group and playing basketball," said head coach Jim Whitesell.  "I thought we played with great energy today and I am really proud of the way all of our guys responded, especially Jeenathan and Brock.  We have a quick turnaround and we will be ready to play a very good and well-coached Army West Point Squad."
The Bulls will play their second game in Bubbleville on Saturday afternoon against Army West Point at 3pm.