By PAUL CIFONELLI
Greece Arcadia's (2-2-0) boys' soccer team snapped a two-game losing streak with its first shutout win of the season at Brockport (0-5-0). The Titans' three-goal effort was due to a tactical change after they scored two goals in the first three games.
"We've been working on pressing the last couple days and pressing as a team," Greece Arcadia coach Matt Vergamini said. "In the first half especially, we did a nice job pressing as a team, pushing onto guys and forcing bad touches and turnovers. We capitalized off a couple of those."
The Titans scored their first and third goals of the day came in part due to their forward pressure. Adam Strand scored in the 13th minute off a feed from Landon Schreib on a breakaway. Schreib also scored Greece Arcadia's final goal with just the keeper to beat.
Finally a goal video. Adam Strand finds the back of the net 13 minutes in to give @GreeceArcadia a 1-0 lead. @PickinSplinters pic.twitter.com/6YMRqvlIqJ

— Paul Cifonelli (@PCifonelli) October 21, 2020
Devin Sperino was credited with Greece Arcadia's second tally of the contest. His goal came on a cross from Lorenzo Ramos-Chavez, who got the ball off a corner kick.
Devin Sperino puts one away to extend the @GreeceArcadia lead to 2-0. The play began on a corner kick. There's 15 minutes left in the first half here. @PickinSplinters pic.twitter.com/EyqqtReDh1

— Paul Cifonelli (@PCifonelli) October 21, 2020
After scoring their first goal, the Titans controlled the ball for most of the remainder of the game. They hadn't scored since a season-opening, 2-1 victory over Canandaigua, so Vergamini was happy to see his offense providing the defense with support.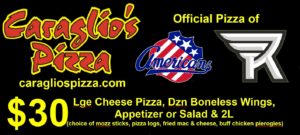 "I'm hoping this gives us some confidence moving forward," Vergamini said. "We're a team that's looking for people to step up and be able to put the ball in the net and tonight I thought we did a nice job of that."
With all the ball control, Greece Arcadia only allowed a few good attacks from Brockport's offense. However, every time the Blue Devils had a chance to score, the Titans' defense cleared the ball or Gabe Taylor made a save. Greece Arcadia's head coach noticed a few improvements from his back line in the victory.
"I thought they did a better job today of tightening up on their forwards, winning balls out of the air and not letting those forwards have a lot of space or feel comfortable up there," Vergamini said. "I also thought they did a better job of communicating back there as a group."
Brockport was kept in the game thanks to some tough saves from Hayden Cook. The Blue Devils offense, however, is still yet to score this season.
This save by Hayden Cook keeps the game tied at 0 10 minutes in. @BCSDBlueDevils @GreeceArcadia @PickinSplinters pic.twitter.com/n5O432NNfg

— Paul Cifonelli (@PCifonelli) October 21, 2020
Greece Arcadia will look to build off the win in its next game on Saturday, when the Titans travel to Canandaigua. Brockport will look to snap its skid on Saturday at home against Pittsford Mendon.