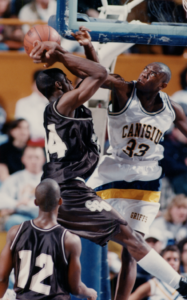 By PAUL GOTHAM
More than two decades have passed since Darrell Barley played on the same courts as NBA veteran Clifford Robinson. The memories haven't faded.
"He could put it on the floor; you couldn't guard him inside," Barley said Tuesday by phone. "He could shoot better than you, so you just had a hope he had a long night. Most evenings, he didn't miss."
Robinson died this past Saturday in Portland, Oregon. He leaves a legacy that includes 18 years in the NBA, 17 of which culminated in the playoffs.
A native of Buffalo, Robinson played at Riverside High School before attending the University of Connecticut where the 6-foot-10 forward starred on hall-of-fame coach Jim Calhoun's first teams.
Taken in the second round of the 1989 NBA Draft, Robinson went on to score 19,591 points (54th all-time) and block 1,390 shots (47th) in his career. He averaged 9.1 points and 3.8 rebounds during his rookie season with the Portland and helped the Trail Blazers to the NBA finals.

The Trail Blazers advanced to the finals again in 1992 with Robinson scoring 12.4 and grabbing 5.1 rebounds per game. Robinson earned Sixth Man of the Year the following season. He set a Portland franchise record that still stands today playing in 461 consecutive games to start his career.
#BREAKING The family of Cliff Robinson, former NBA All-Star, UConn alum and Riverside High graduate says he has died. @WGRZ pic.twitter.com/2EYf0e0NPx

— Claudine Ewing (@ClaudineWgrz) August 29, 2020
During the summer, "Uncle Cliffy" (as he was known) returned to his hometown and joined in the pickup games.
"When he walked in the gym, you couldn't miss him; he's almost seven feet," said Barley who won his 300th career game this past season as head coach of his alma mater, East High.
I'm 6'5, played D1, one of the best in MAAC history, NBA pre draft camp, CBA, European A Division offers. You don't know how good you have to be to play in the NBA until you guard someone like Cliff Robinson in pick up. You can't. #RIPCliffRobinson

— Darrell Barley (@darrell_barley) August 30, 2020
Barley, a student at Canisius College in the mid 90s, spent his summers taking classes and working then head coach John Beilein's camps during the day. At night and on weekends, there were games that included the best players from the Buffalo area.
RIP to a Buffalo legend and long time NBA great Cliff Robinson! All Western New York hoopers in the '80's like myself remember how great Cliff was at Riverside HS then at UCONN! I personally wanted to be the player Cliff was! He represented Buffalo well! 🙏🏽🙏🏽 pic.twitter.com/3oNWKTZTDC

— Carlin Hartman (@CarlinHartman) August 29, 2020
"A lot of guys would come back. Guys who played in Europe. Guys who were at other schools."
Earlier in the day, Barley received letters of interest through the mail from NBA teams. At night he took to the court against guys like Robinson, Trevor Ruffin (Phoenix Suns and Philadelphia 76ers), Damone Brown (Syracuse University), Keith Robinson (Notre Dame) and Damien Foster (Boston College and UB) to name a few. There were also members of the Buffalo Bills who played from time to time.
"Those were some of the best runs," Barley recalled. "They would just walk in the gym, and it was time to hoop.

"It was fun because you could really sharpen up your basketball game whether it was at the Koessler Center (Canisius), at UB or we would go up to Delaware Park and play outside. There was always somewhere to play."
And when Cliff Robinson was in town, the games took on an added meaning.
"When he came back, he was really the top guy, the top dog."
A member of the Greater-Buffalo Hall of Fame, Robinson led UConn to the 1998 NIT championship, Calhoun's first title in his career at Storrs.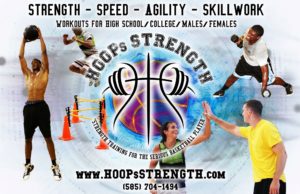 "The big thing he did for us," Calhoun told the Hartford Courant, "during the time, we needed legitimacy. Promise and hope are great things, but to get players is seeing things. Other guys started to see some of the players we had, and the only player we had in the NBA was Cliff, and he was playing beside Clyde Drexler in the playoffs, some of the great games in history. He did so much for us in that regard and over the years, if I needed something from Cliff, to come to an event, he was there. He is a great UConn story."
Robinson survived a brain hemorrhage in 2017. He suffered a stroke last week and fell into a coma.
Cliff Robinson was ahead of his time in the NBA, the first player 6-10 or taller to make 100 or more 3-pointers in a season, and the first to do it 4x ('95, '96, '97, '00) prior to 2004. Only 2 others hit that threshold in the 90s; 22 have done it over past 4 seasons.

— Jonah Bronstein (@lebronstein) August 29, 2020
Robinson helped develop the "stretch four" role, the big man who can score from the outside. Known for his signature headband that he wore, Robinson connected 1,253 times from 3-point range during his career, at the time of his retirement the most by any player his size.