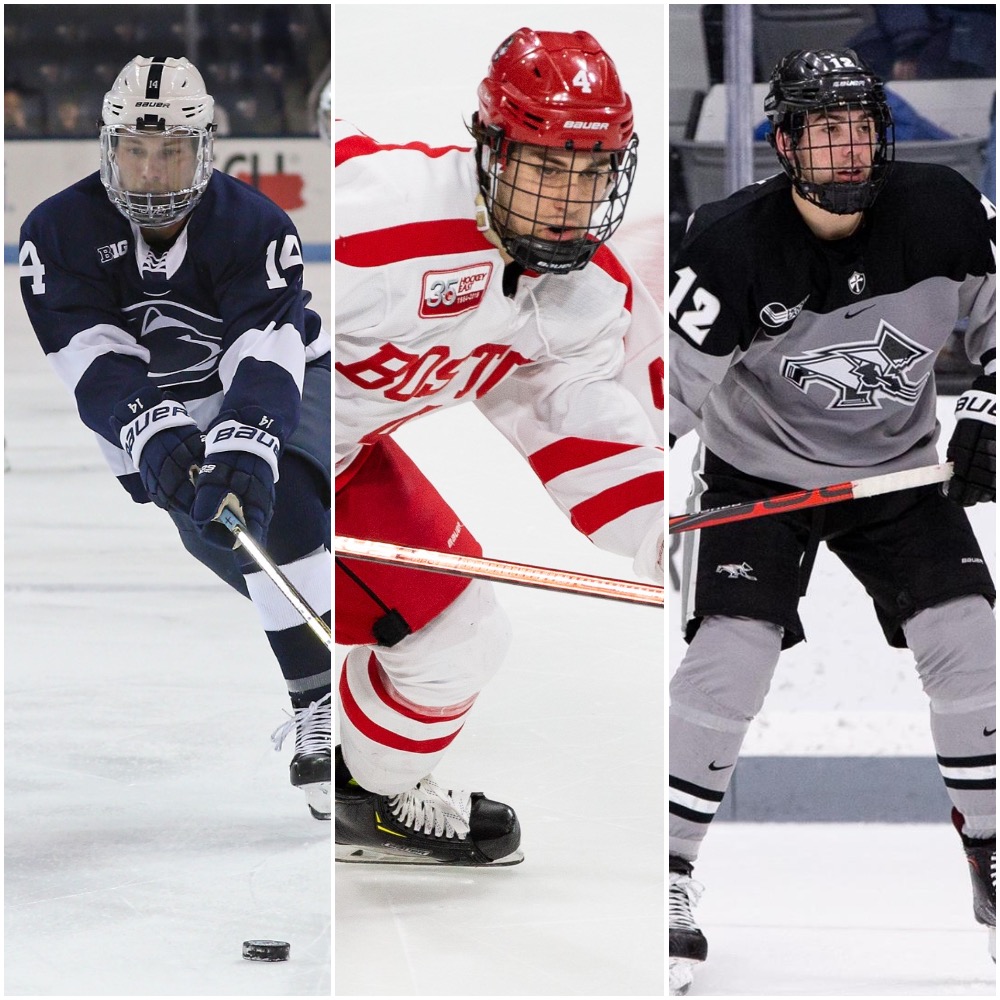 By IAIN HIGGINS
Jack Dugan (Providence College), David Farrance (Boston University), and Nate Sucese (Penn State) were named to the American Hockey Coaches Association All-American teams for the 2019-2020 season. Dugan and Farrance garnered first-team honors while Sucese earned a spot the second team. 
Dugan collected 52 points this season with 10 goals and 42 assists and led Division I men's hockey in points, assists, and power play points (22). He was also a 2020 Hobey Baker top ten finalist. Dugan started his high school hockey career at McQuaid Jesuit. He led McQuaid to a state championship victory in 2015, his junior year, tallying 65 points in 24 games. He was named New York State Player of the Year. The forward moved on to Northwood School for two years in Lake Placid, New York, before being drafted by the Las Vegas Golden Knights in 2017 in the fifth round. He headed to Providence to play college hockey, where he reached the Frozen Four in 2019, his freshman year.
Farrance racked up 43 points for BU with 14 goals and 29 assists, earning him sixth place in the DI men's hockey points rankings for the 2019-2020 season. He led all D1 defenseman in points, goals, and power play goals this season. Farrance played high school hockey at Victor until his sophomore year in 2015, the season he helped the Blue Devils secure a Section V title. He was then selected for the US Hockey National Development Program for two years while playing for the US National U17 and U18 teams. He was selected by the Nashville Predators in the third round of the 2017 draft. 
Sucese landed 15th in the D1 men's hockey rankings for points. He tallied 11 goals and 27 assists for a total of 38 points. Sucese played one season of high school hockey for Fairport in 2012-2013 before moving on to the Gunnery School, where he spent one year. He then played for the Jr. Sabres for two seasons followed by another two season stint with the Dubuque Fighting Saints of the USHL before moving on to the fledgling college hockey program at Penn State. He is the fourth Nittany Lion to reach 100 career points and ended this season as the all-time leader in points (140) and goals (61) for the program. He ranked second in assists (79), shorthanded goals (5), and shots on goal (470). He signed an entry level contract with the Arizona Coyotes in March 2020.