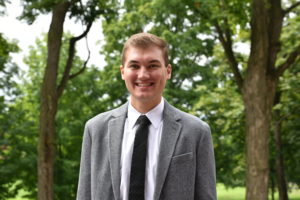 Courtesy of Elmira College Athletic Communications
ELMIRA, N.Y. — Elmira College Associate Vice President of Athletics Renee Carlineo announced on Thursday the appointment of Phil Pellegrino as interim head women's basketball coach.
After spending the past three seasons on Randie Torgalski's staff with the men's basketball program, Pellegrino steps in to replace former head women's basketball coach Devin Shea. Shea resigned from the position after two years in order to relocate with her fiancé, who recently accepted a job offer out of state.
"We are incredibly excited for Phil to take over the reins of the women's basketball program," Carlineo said. "Phil has been a vital part of our athletics department and men's program for three years. His coaching and recruiting experience, along with his knowledge and love of Elmira College, is exactly what we need at this time."
"I am beyond thankful for Elmira College, the athletic department, and the relationships I have made in this community," Pellegrino said. "Being a head coach has forever been a dream of mine. This is a school and community that I am passionate about and have fallen in love with. The campus, staff, and the especially students at this institution are incredibly special."
In three seasons with the Purple and Gold, Pellegrino was responsible for practice planning and player development, and led recruiting efforts for the men's basketball program. In his first season at EC in 2017-18, he assisted with the installation of a new offensive system that saw the Soaring Eagles increase their scoring production by an average of 20.0 points per game. That year, Elmira logged 82.1 points per game, the fourth-highest average in team history, and they came close to that mark again in 2018-19 with 78.3 points per game.
A former Empire 8 All-Conference student-athlete, Pellegrino spent his freshman season at Alfred University before finishing the last three years of his collegiate career at Houghton College. He paced the Highlanders in scoring as a junior and eclipsed the 1,000-point mark during his senior campaign. The Rochester, New York, native was also a proficient 3-point shooter, as he finished his career with 162 3-point field goals. With Pellegrino on the court, Houghton experienced its most winningest seasons in over two decades, reaching double-digit wins for the first time since the 1995-96 season.
Pellegrino graduated from Houghton in 2017 with a degree in Biology and will graduate with a master's in Health Services Management from Elmira College this summer.