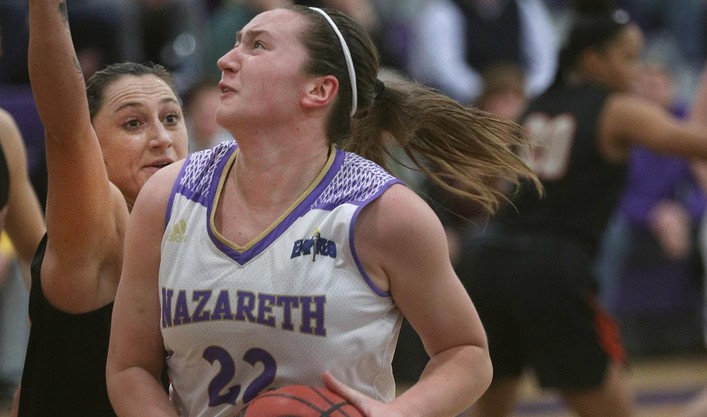 Courtesy of NazAthletics.com
ROCHESTER, N.Y. — Nazareth College senior Rachel Benedict has been named Rochester Area NCAA Division II-III Player of the Year by the United States Basketball Writers Association.
A 5-foot-11 forward from Brockport, N.Y., Benedict also was one of 12 players named to the first team along with sophomore Jadyn Abrams. Benedict recently closed out an an honor-laden career for the Golden Flyers in 2019-20 by averaging a double-double with 18.4 points and a conference-best 11.6 rebounds per game. She also made 50 three-point baskets and led the team in free throw accuracy (95-for-111, .856). Her career stats include 1,624 points (third all-time) and 1,026 rebounds (second all-time), making her the only player (male or female) in Nazareth basketball history to combine 1,600 points with 1,000 rebounds. She was selected as a first-team Empire 8 Conference all-star for the third year in a row and was selected as a second-team East Region all-star by d3hoops.com.
Abrams, a 5-foot-10 forward from Bath, N.Y., averaged 14.3 points and 4.5 rebounds per game with 50 three-point baskets. She also led the team with 34 steals and shot 82.4 percent from the free throw line (56-for-68). Abrams' season was highlighted by a 42-point effort in a game against Sage on Feb. 15, breaking the single-game scoring record that stood since 1979.