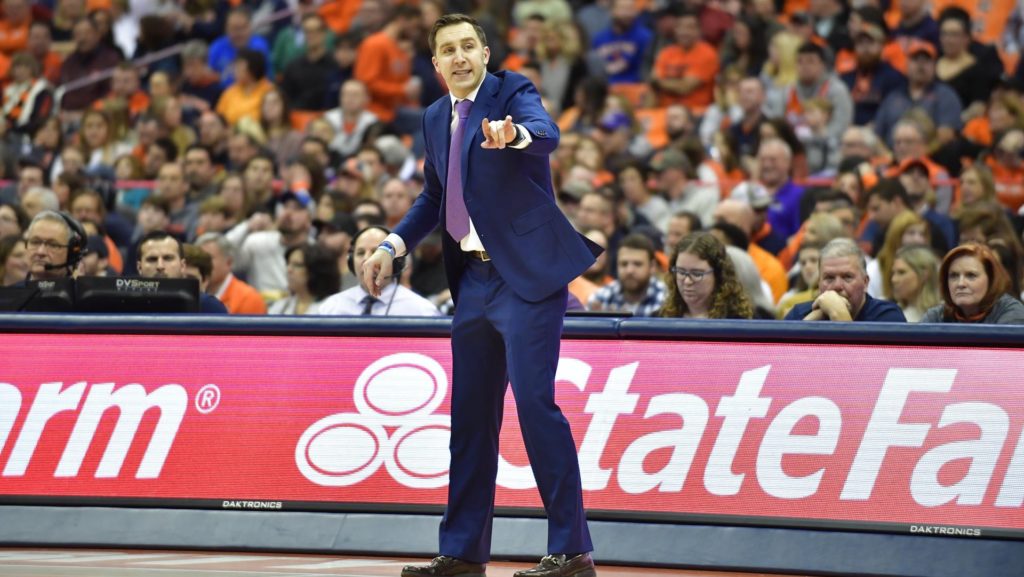 Courtesy of PurpleEagles.com
BOSTON – Greg Paulus was named the recipient of the 2019-20 Joe B. Hall Award which is presented annually to the top first-year coach in NCAA Division I college basketball.
Paulus made the 2019-20 Purple Eagles one of the most competitive teams in the MAAC. The Purple Eagles surpassed preseason predictions with Paulus having the Purple Eagles contending near the top of the conference all season and winning ten games against conference opponents. Niagara won a game in the MAAC Tournament for the first time in three seasons after beating Marist in the first round.
The Purple Eagles ranked statistically in the top-25 in the nation in fewest turnovers per game (10.6), in fewest total turnovers (338), in turnover margin (3.3) and in 3-point field goal percentage (.372), while leading the MAAC in all four categories. Niagara had the best assist-to-turnover ratio (1.13) in the MAAC as well. Under Paulus' tutelage, sophomore Marcus Hammond had a career-season en route to being named to the All-MAAC First Team.
The Purple Eagles also excelled in the classroom. Niagara posted a program-best 3.18 GPA in the 2019 fall semester and had eight student-athletes with a GPA of 3.0 or higher. Justin Roberts and Steven Levnaic garnered MAAC All-Academic Team honors at the end of the season. In addition, the Purple Eagles were active in the local community as they practiced the university's mission of community service. The team sponsored a family during the holiday season through Community Missions of Niagara Frontier, and volunteered at the Magdalene Project at St. George's Church in Niagara Falls at Thanksgiving.
The Purple Eagles excited fans in the Gallagher Center during the 2019-20 season with dramatic victories. On December 8, Niagara rallied from down 16 against Colgate for an overtime win. Niagara defeated Rider on a buzzer-beating 3-pointer on January 17; the play made ESPN's SportsCenter with Scott Van Pelt. On February 29 versus Iona, the Purple Eagles rallied from a seven-point deficit in the final 35 seconds of regulation to force overtime on another buzzer-beating 3-pointer; NU won in overtime. Niagara finished its home schedule with a 9-3 record, with eight of those wins coming in league play.