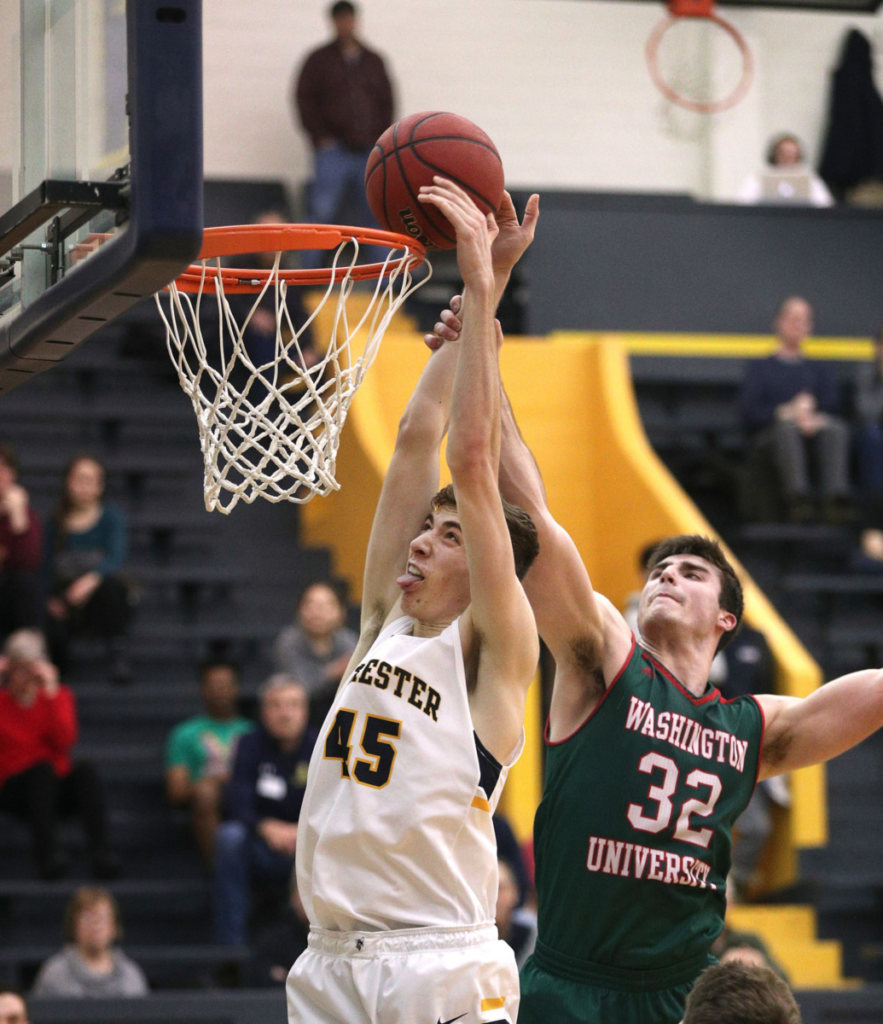 Courtesy of UofRAthletics.com
Junior Ryan Algier of the Rochester men's basketball team made significant strides on the court this season and the progression was rewarded by two outlets the National Association of Basketball Coaches (NABC) and D3hoops.com.
From the NABC, Algier was a 1st Team All-District selection in the East for the 2019-20 season.  He was 2nd Team All-Region in the East by D3hoops.com.
The honors follow the 1st Teal All-UAA accolade which the conference bestowed on the junior earlier this month.  2020 is the first season in which he has earned All-Region honors.
On the court, Algier was Rochester's top scorer this season, averaging 14.8 points per game while also leading UR in rebounding (8.2 rebounds per game), field goal percentage (.620) and blocks (44).  Algier's career year also featured 150 total field goals made and 24 steals as the junior started all 25 games for the Yellowjackets.
The Fairport, New York native led the Yellowjackets in scoring in nine games and was the top rebounder in 18 games.  He also registered seven double-doubles and had four straight to close the season.  The 6-10 forward swatted seven blocks in a win against Ithaca in December, tying for fourth most in a single-game in Rochester history.
Algier also had a 33-point, 13-rebound outburst in the Mark's Pizzeria Crosstown Shootout against Nazareth in November and pulled down a whopping 17 rebounds to go with 16 points against Carnegie Mellon in late January.
Off the court, Algier was selected as a 1st Team Academic All-District selection by CoSIDA and was named All-Academic within the UAA.
Algier was one of just six players in the East to be named 1st Team by the NABC, joining Ithaca's Sebastian Alderete, SUNY Potsdam's Isaiah Brown, SUNY Cortland's Austin Grunder, St. John Fisher's Sammy Robinson and District Player of the Year Patrick Mahoney from RPI.
D3hoops.com selected three All-Region teams with five players each, with Brown, Robinson and Mahoney earning 1st Team accolades along with Donyae Baylor-Carroll of Penn State Harrisburg and Ithaca's Riley Thompson.  Algier was joined on the 2nd Team by Grunder, Tucker Lescoe from Hobart, and two Brockport players, Jahidi Wallace and Justin Summers.