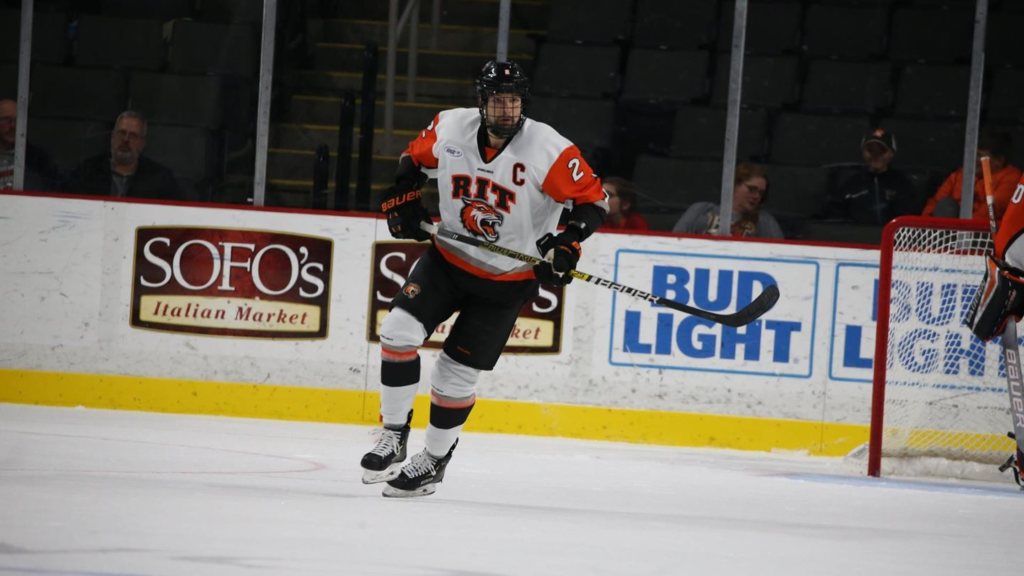 Courtesy of RITAthletics.com
PITTSBURGH – RIT senior forward Shawn Cameron (Sherbrooke, Quebec/Cumberland Grads) totaled two goals and an assist to lead the Tigers to a 4-1 victory over host Robert Morris in Atlantic Hockey action, Friday.
HOW IT HAPPENED
RIT scored the lone goal of the first period. Senior defenseman Adam Brubacher (Elmira, Ontario/Powell River Kings)received a left-board feed from junior forward Alden Dupuis (Edmonton, Alberta/Bonnyville Pontiacs) and took a shot from the slot that rebounded off the Colonial goalie's pads. Cameron shuffled the loose puck across the goal line with 15:25 on the clock for the early lead.
Cameron scored a short goal in front off a centering pass from junior forward Nick Bruce (Fall River, Nova Scotia/Johnstown Tomahawks) with 4:59 left in the second for a 2-0 Tiger lead.
Robert Morris pulled within one, 2-1, with a power play goal 33 seconds into the third period.
Just over two minutes later, freshman defenseman Ryan Nicholson (Mississauga, Ontario/Oakville Blades) scored his first collegiate goal on a wrist shot in the slot to push the Tigers to a 3-1 lead with 17:18 on the clock.
Cameron centered a pass to Dupuis in front for a short finish with 12:54 left in regulation to close the scoring.
GAME NOTES
Brubacher became the 13th player in RIT's Division I era to score 100 career points with his first-period assist.
Cameron pushed his team-leading goal total to 15 as well as his Tiger-best point total to 24.
Junior goalie Logan Drackett (Calgary, Alberta/Calgary Canucks) was credited with 41 saves as RMU finished with a 42-26 shot advantage. It was two shy of the season high 43 saves he made in the Tigers' 2-1 victory at Air Force (Oct. 24)
WHAT'S NEXT
The teams meet again in Pittsburgh on Saturday (Feb.8) at 7:05 p.m.