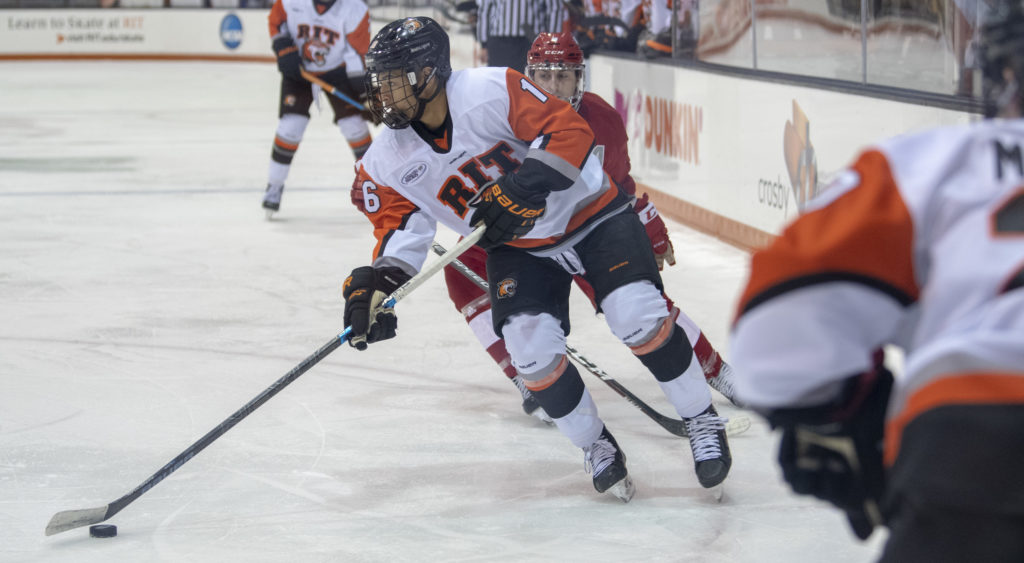 Courtesy of RITAthletics.com
ROCHESTER, N.Y. – RIT freshman forward Elijah Gonsalves (Scarborough, Ontario/Wellington Dukes) landed his second-consecutive Atlantic Hockey Rookie of the Week honor, Tuesday.
Gonsalves scored a goal and added an assist in both of the Tigers' games at Holy Cross last week. He scored a power play goal early in the second period to push RIT to a 4-2 victory on Saturday. Gonsalves also scored a power play goal to tie Friday's game, 2-2, but the Crusaders came back to win, 4-3.

Gonsalves is on a four-game goal scoring streak, totaling five goals and two assists during the stretch. He is also third among Atlantic Hockey rookies with 18 points, including seven goals that are tied for the second-highest mark among conference first-years.
RIT (14-11-3, 10-7-3 AHA) travels to Robert Morris for a conference doubleheader this Friday and Saturday (Feb. 7-8). Face-off both nights is slated for 7:05 p.m.