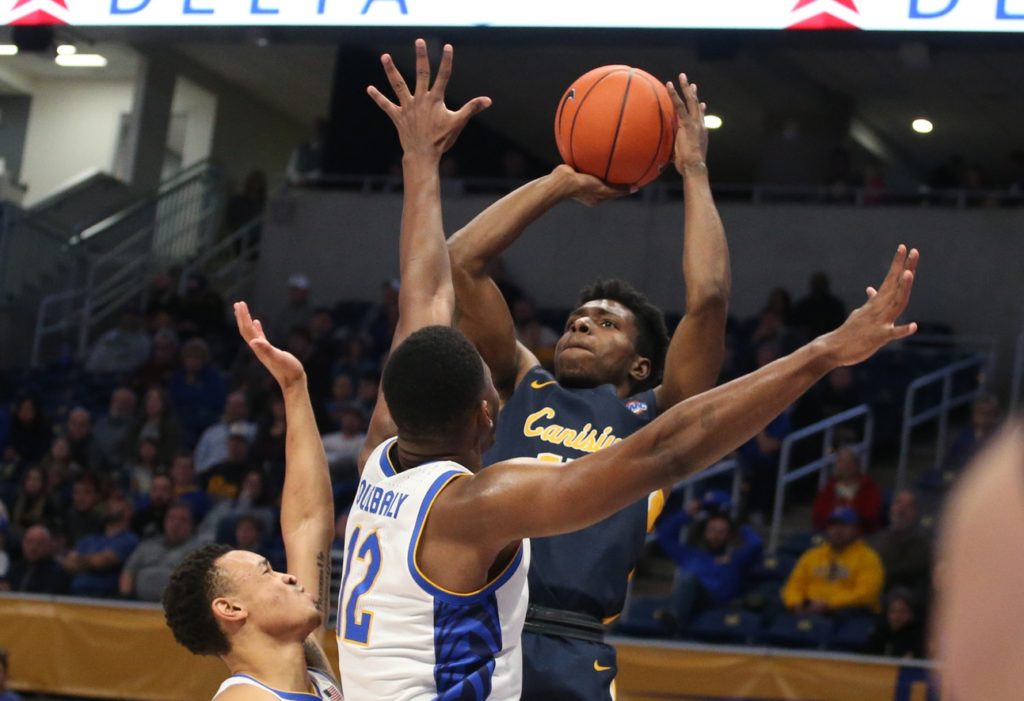 Courtesy of GoGriffs.com
Junior guard Majesty Brandon scored Canisius's final 10 points, capped by the game-winning 3-pointer with 5.1 seconds left to play, as the Golden Griffins snapped a three-game losing streak with a 66-65 come-from-behind victory over Marist Sunday afternoon at the Koessler Athletic Center.
Canisius, which was playing with just eight healthy players for the second-straight game, moves to 9-13 overall and 4-7 in MAAC play with the win, while the Red Foxes slipped to 5-15 overall and 4-7 in conference action.
Marist held a seven-point lead at 60-53 with 3:51 left to play before Canisius junior Scott Hitchon cut that cushion to four points at 60-56 with a basket and a free-throw for a traditional three-point play. Following a Marist miss, Brandon scored on a lay-up to trim the Red Foxes' lead to 60-58 with 2:57 showing on the clock, but Marist answered quickly, as the lead went back to five points at 63-58 with 1:58 remaining thanks to a 3-point make by freshman guard Tyler Saint-Furcy.
After the Griffs and Red Foxes traded field goals, Brandon was able to get the Blue and Gold within two points at 65-63 with 16.6 seconds remaining. Out of a timeout, Canisius fouled Marist, but the Red Foxes missed the front-end of a 1-and-1 opportunity at the line, setting up the final score for the Griffs. On the play that put Canisius ahead for good, senior guard Malik Johnson drove baseline right in front of his team's bench and kicked the ball to a wide-open Brandon, who drilled the game-winning shot from the corner with 5.1 seconds remaining. Marist had a last-second chance to try and win the game, but Saint-Furcy's 3-point heave from just inside mid-court fell short, and the Blue and Gold walked off their home floor with the win.
Canisius sophomore Jordan Henderson led the Griffs with his game-high 17 points to go with four rebounds, four assists and a steal. Brandon ended the game with 16 points and three rebounds, while Hitchon chipped in 13 points, three boards and two assists. Senior Corey Brown was good for 10 points and a season-high eight rebounds in the win, while Johnson ended the day with eight points, seven assists and four rebounds. Canisius shot 45.2 percent from the field, 28.6 percent from 3-point land and 66.7 percent from the free-throw line in the victory, while turning 13 Marist turnovers into 15 points.
Three Marist players scored in double-figures in the loss, led by Michael Cubbage and his team-high 16 points. Saint-Furcy added 13 points while Zion Tordoff came off the bench to chip in 12 points in 16 minutes of action. Marist shot 44.2 percent from the field, made 9-of-26 tries from 3-point land and shot 71.4 percent from the charity stripe on the day.
Head Coach Reggie Witherspoon's Postgame Comments
"We talked about situational awareness before the game. We ran two plays at the end [of the game] that we practiced, and we run them a little bit in games, but we really save them for situations. We executed those plays picture-perfect. We had guys in the game that were in different spots because of our injuries and illness. There were some guys in spots they've never been in before, and that's challenging, but our guys really executed when they had to."
"I said this Friday night, and I'll say it again. Credit to our eight guys who played today. They gave it everything again today. They were playing until they had no breath left in their body. When they got tired, they let me know. Then the next guy went in. It was a total team effort."
"For our guys, who come in and work their tails off, this win feels good. It is nice to be able to go home tonight and go to bed knowing we were short-handed and we laid it all out there this weekend."
Game Notes
• Sunday was the 51st all-time meeting between the two schools, with the Griffs leading the series 32-19.
• Six of Canisius' 11 MAAC games this year have been decided by five points or less.
Two of Canisius' four MAAC wins this season have come when the Griffs were trailing with 2:00 left on the clock.
Canisius outscored Marist 32-22 in points in the paint.
Henderson's 17-point effort gives him double-figures in the scoring column in four of the last five games.
Brandon has now scored 10-or-more points 13 times this season with seven of those occasions coming in MAAC play.
Brown has scored 10 points in each of the team's last two games.
Johnson's seven assists on Sunday gives him five-or-more assists 65 times in his career.
Up Next
Canisius will return to action next Friday, Feb. 7, when the team travels to play at Rider in Lawrenceville, N.J. Game time is set 7 p.m. The contest will be broadcast live on ESPN3 and the radio call will be available through WECK Buffalo Radio (1230-AM, 100.5-FM and 102.9-FM) and GoGriffs.com.