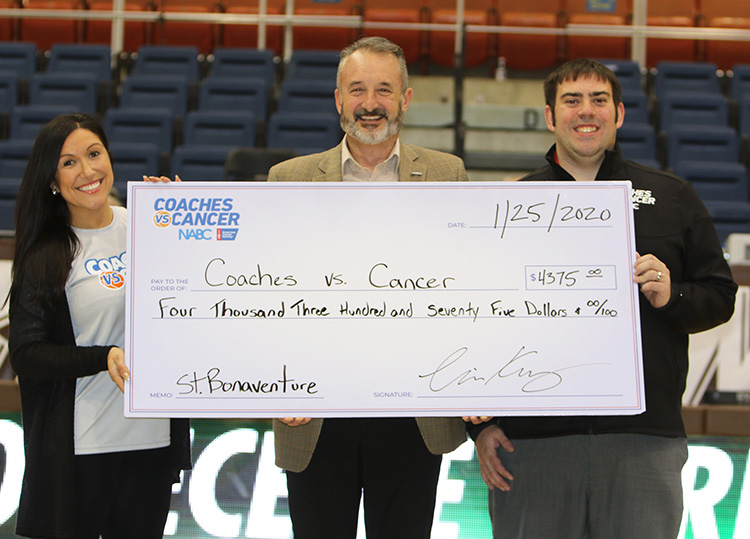 Courtesy of GoBonnies.com
ST. BONAVENTURE, N.Y. – The Southern Tier community again proved its generous nature, helping St. Bonaventure Athletics to raise more than $4,000 for the American Cancer Society as part of the Coaches vs. Cancer initiative.
The Bona Athletic Department took donations at Saturday's men's basketball game through several different fundraisers. The efforts resulted in a total of $4,375 being raised with proceeds going toward the fight against cancer and research work.
The Bonnies have taken part in the cause for several years and continue to take a larger role in the fight with head coach Mark Schmidt accepting a spot on the national board for Coaches vs. Cancer this year.
Bona basketball showed its support in several different ways.
In two games during the past week Bonnies coaches wore sneakers as a sign of support for the Coaches vs. Cancer "Suits and Sneakers" program. At Saturday's game, Bona players showed their support by donning pink shooting shirts provided by Coaches vs. Cancer. Fans were able to contribute to the cause by purchasing customized bracelets at arena entrances for donations beginning at $1. Many donations were also accepted during a "Miracle Minute" media timeout of the game where buckets were passed through the crowd by St. Bonaventure cheerleaders for fans to donate.
Coaches vs. Cancer is a nationwide collaboration between the American Cancer Society and the National Association of Basketball Coaches.
This project leverages the personal experiences, community leadership, and professional excellence of coaches nationwide to increase cancer awareness and promote healthy living through year-round awareness efforts, fundraising activities, and advocacy programs. Since 1993, coaches have raised over $125 million for the American Cancer Society.
To learn more about Coaches vs. Cancer, please click here.