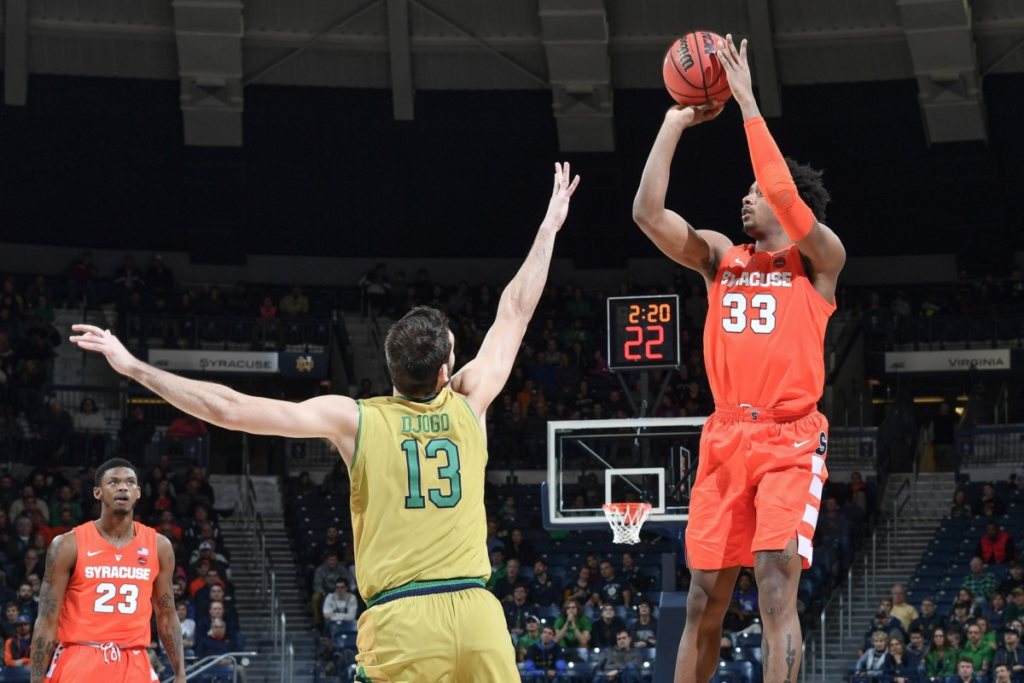 By BILLY HEYEN
Syracuse (8-5, 1-1 Atlantic Coast) welcomes Notre Dame (9-4, 0-2) to the Carrier Dome on Saturday to resume ACC play in the new year. The Orange concluded nonconference play with a 14-point home win over Niagara, while the Fighting Irish beat Alabama A&M by 26 on Dec. 29. Two teams that could be fighting for the ACC's final NCAA Tournament spot will look to pick up a momentum-building win Saturday.
Here's a preview of what the Fighting Irish will bring to the Carrier Dome on Saturday afternoon.
How to watch Syracuse vs. Notre Dame
Syracuse and Notre Dame tip off at 4 p.m. on Saturday, Jan. 4. The game will be televised on ESPN2.
All-time record
Syracuse leads the all-time series, 29-21. SU opened the series with a 50-14 win in 1914. Since Mike Brey became the Fighting Irish head coach, Syracuse is 17-8 against Notre Dame.
Last time they played
Syracuse played its first game of 2019 in South Bend, Indiana on Jan. 5, 2019. The Orange came away with a 72-62 win. SU was led by 22 points from Elijah Hughes, who got help from 19 Oshae Brissett points and 17 Tyus Battle points.
For Notre Dame, two of this year's seniors scored in double figures in the meeting a year ago. TJ Gibbs dropped 18 points, while John Mooney added 14.
How Syracuse beats Notre Dame
Syracuse's best chance of beating Notre Dame will center around the two seniors mentioned above, Gibbs and Mooney. The Orange will have to slow at least one down to hold the advantage.
MORE: Syracuse Basketball Decade In Review
Gibbs will hurt SU from beyond the arc as a zone stretcher. Gibbs hit four 3-pointers in the first half in South Bend a year ago, so Buddy Boeheim and Joe Girard III will need to be aware of Gibbs' whereabouts at all times. Mooney is the type of glass-attacking big guy with mid-range touch that gave the Orange trouble during nonconference play. Bourama Sidibe will need to stay out of foul trouble while preventing Mooney from easy looks from the foul-line area.
In addition, Notre Dame's offense does one thing better than any team in the country: Protect the basketball. UND's turnover percentage of 13.6 percent is the lowest in the nation, per KenPom. If the Orange zone can force more mistakes out of the Fighting Irish than usual, SU stands a solid chance of winning.
Syracuse X-Factor
Elijah Hughes: With conference play resuming for good now, Syracuse will need to lean on its best player to continue playing at an All-ACC First Team level. Hughes liked the matchup with Notre Dame a year ago when he put up 22 points, and not much has changed about the Fighting Irish team. SU will go as Hughes goes Saturday.
Notre Dame X-factor
John Mooney: Mooney is one of the best rebounders in the country, and at 6-foot-9, he can score inside with either hand or step outside and knock down perimeter shots. The Orange won't necessarily keep Mooney from a near double-double, but SU's goal should be to keep his shooting percentage lower than 50 percent. If Mooney has to work for his makes, it'll slow down Notre Dame's offense.
Prediction: Syracuse vs. Notre Dame
Syracuse 70, Notre Dame 66
Notre Dame shouldn't be stifled by the SU zone as the Fighting Irish enter the Carrier Dome with a veteran group. Syracuse's depth is battling some health issues, too. But in the end, Jim Boeheim will keep his rotation short in a tight game, and that means Elijah Hughes, Marek Dolezaj and Buddy Boeheim should see enough court time to provide the Orange with a slight edge.