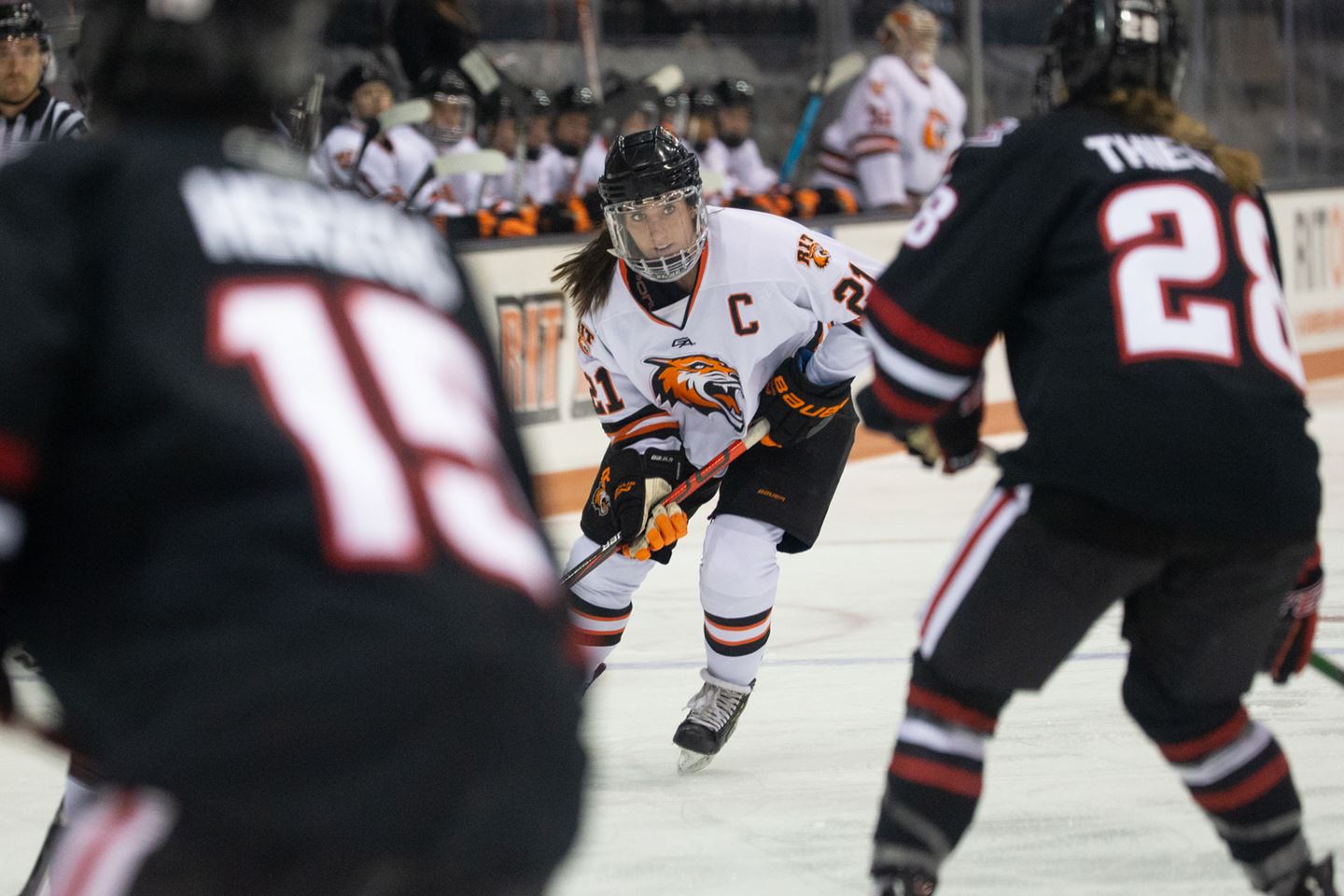 Courtesy of RITAthletics.com
ROCHESTER, NY — After a somewhat rare, but well-timed, weekend off in November, the RIT women's hockey team gets back on the ice this weekend at the Gene Polisseni Center against Dartmouth College.
And while players look forward to building on their recent success, they'll also pay tribute to an icon from the past before Friday's 2 p.m. game.
RIT will honor the memory of Kristine Pierce Brassie, a standout with the program between 1994 and 1999 who lost her battle with cancer in April. She was 43.
A resident of Mendon and graduate of Honeoye Falls-Lima High School, she overcame Hodgkin's disease as a sophomore and returned to the ice the following year, her first of three seasons as captain.
In 1999, Brassie became the first NCAA Division III student-athlete to win the Hockey Humanitarian Award for her tireless work with 24 different organizations. The award honors "college hockey's finest citizen." She then became the first athlete in RIT's athletic department history to have her jersey retired (No. 12), and in 2007 was inducted into the RIT Athletics Hall of Fame.
"We want to remember what she was all about as a human and what she meant as a captain to the RIT community," Tigers coach Chad Davis said.
RIT and Kristine's family will launch the Kristine Pierce Brassie Memorial Fund. The endowed hockey fund will support the women's hockey team in an effort to enhance the student-athlete experience. The goal of the 30-day campaign is to raise $25,000 to create the named endowment that will provide funding for women's hockey in perpetuity. To contribute, visit the fundraising page (https://crowdfunding.rit.edu/?cfpage=project&project_id=31543&t=1573688154).
"She will always be remembered by us as the commensurate student-athlete and her spirit will live on for many years in the hearts and minds of the Tiger faithful," RIT Executive Director of Athletics Lou Spiotti said at the time of her passing.
For the Tigers, the weekend set will be their first games since Nov. 1-2. They'll bring a 3-6-1 overall record and 1-3-0 mark in College Hockey America) into the games against Dartmouth (1-4-1, 1-3-1 ECAC).
While the weekend off wasn't the norm, Davis said the timing was perfect. The coaching staff gave the players last Friday, Saturday and Sunday off, then the team returned to practice on Monday.
"We've been going since August so it was good to have a little time off to digest where we are, how we got here and where we're going," Davis said.
After starting 0-5-1, the Tigers are 3-1 in their past four games. They swept a pair on home ice from Brown University, then split a weekend set with defending CHA champion Syracuse University, with the road team winning both.
"Now that we've got some confidence, we want to keep it going," Davis said.