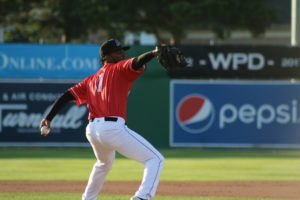 Courtesy of Muckdogs.com
BATAVIA – Even when the Batavia Muckdogs lose, they find a way to keep the crowd excited until the last out.
The Muckdogs saw their three-game win streak end with a 5-4 loss to Mahoning Valley on Sunday.
The Muckdogs play at home at 11:05 a.m. on Monday as part of Kids Day and a special for fans age 55 and over. Tickets for anyone 55 and older is just $2 and there will be food and drink specials as well.
On Sunday, Mahoning Valley jumped out to a 5-2 lead in the sixth and held off a Batavia rally to win.
Batavia remains in first place in the New York-Penn Pinckney Division with a 22-14 record and Mahoning Valley is 18-18.
Jeremy Galindez went 2.1 innings giving up two hits and struck out one.