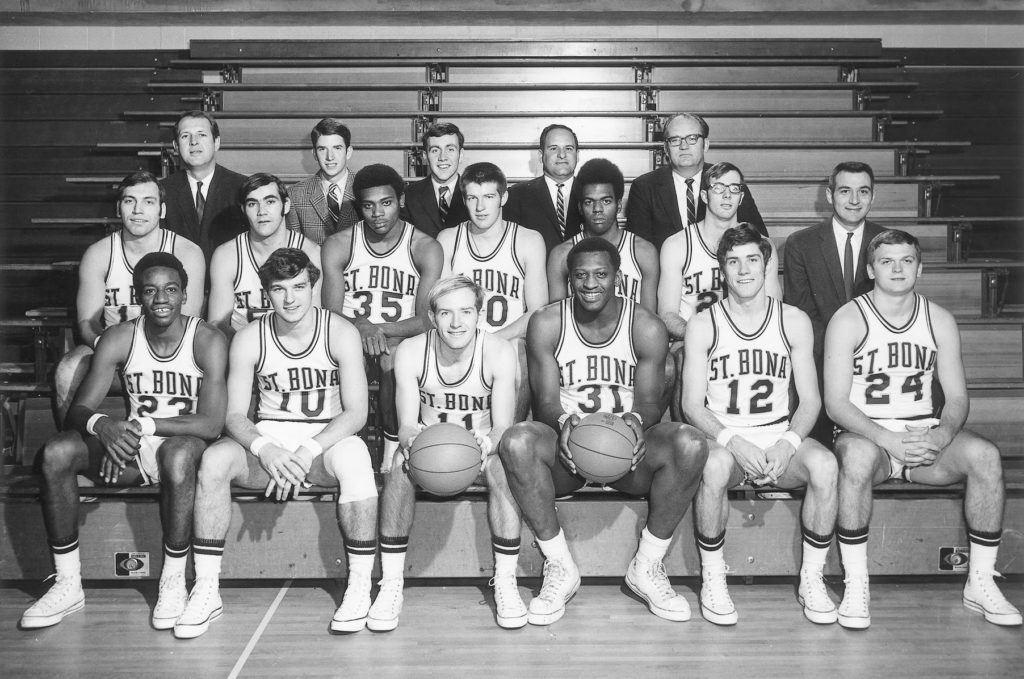 Courtesy of GoBonnies.com
ST. BONAVENTURE, N.Y. – With the celebration of the 100th anniversary of St. Bonaventure basketball set for this season, Bonnies fans will have the opportunity to honor one of the University's most legendary teams commemorating its own golden anniversary – the 1969-70 Final Four team.
The SBU squad which reached the Final Four and became known nationwide will return to the Reilly Center Saturday, Dec. 7 to be recognized during that day's game vs. an opponent which will be announced at a later date (game time will also be released in the coming days). This season marks the 50th anniversary of the Final Four team.
Members of the team and coaching staff are scheduled to be on hand including Basketball Hall of Fame member Bob Lanier and former head coach Larry Weise. Lanier scored 2,067 points over his career in which he led the Brown and White to a 65-12 record. The Buffalo native's No. 31 is retired in the RC rafters, while the court was named after him in October of 2007. The all-time winningest coach in program history until current head coach Mark Schmidt broke that record this past season, Weise posted a 202-90 record over his 12 seasons at the helm from 1961-73.
"The banner that hangs in the Reilly Center for the Final Four team is something not many universities across the country can celebrate," St. Bonaventure Director of Athletics Tim Kenney said. "To honor this team and the men who made it happen will truly be an event to remember. We look forward to welcoming them back on campus this year for an unforgettable day for all of our fans."
St. Bonaventure finished with a 25-3 overall record during the Final Four season and defeated Davidson (85-72), N.C. State (80-68) and Villanova (97-74) in the NCAA Tournament as part of a run that still captivates Bona basketball fans today.
A centerpiece of the program's Centennial Season celebration, the Dec. 7 game will have added significance as it will mark the 100th anniversary of the program's first game as an organized intercollegiate sport. St. Bonaventure hosted its first game Dec. 11, 1919 in Butler Gymnasium where the first (then St. Bonaventure College) squad defeated an alumni team, 29-18.
In addition, earlier this week the Athletics Department unveiled special 100th anniversary logos to be used throughout the Centennial Season. With the Final Four squad also celebrating their own golden anniversary this year, a special logo for the team and their unforgettable season has been created as seen above. That logo will be made available in memorabilia for fans to purchase at a later date.
1969-70 St. Bonaventure Final Four Team

Players
Tom Baldwin
Gene Fahey
Matt Gantt
Greg Gary
Paul Grys
Paul Hoffman
Bill Kalbaugh
Mike Kull
Bob Lanier
Dale Tepas
Vic Thomas
Peter Wisniowski
Coaches & Staff
Larry Weise
Bob Sassone
Fred Handler
Jim Halloran – Manager
Steven Allan – Manager
Dick Giglotti – Athletic Trainer
Don McLean – Voice of the Bonnies – WPIG/WHDL Radio
In honor of the 50th anniversary of the 1970 Final Four team, the SBU Bookstore has teamed up with vintage sports apparel company 19Nine to offer official St. Bonaventure Final Four merchandise.