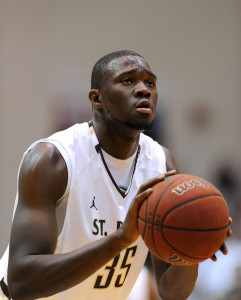 Courtesy of GoBonnies.com
ST. BONAVENTURE, N.Y. – St. Bonaventure University alumnus Youssou Ndoye has earned a spot in the NBA Summer League with the Dallas Mavericks.
Ndoye has enjoyed a stellar professional career following his time with the Bonnies.
After finishing his career at St. Bonaventure, Ndoye first moved on to play professionally for the Austin Spurs of the NBA Developmental League. During the 2015-16 season, he averaged 7.9 points and 7.0 rebounds per game with Austin before going overseas to continue his pro career in France. In 2016-17, he helped Bourg to a championship in the France-Pro A league with a tremendous season – he averaged 14.1 points and 9.4 rebounds in 27.7 minutes per game. During the 2017-18 season, he averaged 11.8 points, 6.4 rebounds and shot 61.5 percent from the floor in 33 games with Bourg.
This past year, Ndoye averaged 13.5 points and 8.5 rebounds, hitting 61.7 percent of his shot attempts from the floor (164-for-266). He averaged 29.4 minutes in 31 games and led Bourg on the boards while ranking second in scoring behind only Georgia Tech product Zachery Peacock.
The 7-foot center was named All-Atlantic 10 and picked to the A-10 All-Defensive Team as a senior at St. Bonaventure and was one of two players in the league during his senior season of 2014-15 to average a double-double for the season. He also was part of St. Bonaventure's 2011-12 Atlantic 10 Championship team.
Dallas' Summer League schedule kicks off Friday, July 5 in Las Vegas with a four-game preliminary round. The Mavericks first play Brooklyn Friday (7 p.m. ET) followed by Houston Saturday (9 p.m. ET), Sacramento Monday (3:30 ET) and the Croatian National Team Wednesday, July 10 (3:30 ET).
Following the preliminary round, the top eight teams will be seeded in a tournament, which culminates with the Championship Game on Monday, July 15 at 9 p.m. ET. Teams that do not qualify for the tournament will each play a consolation game. Every team will play at least five games and as many as seven.