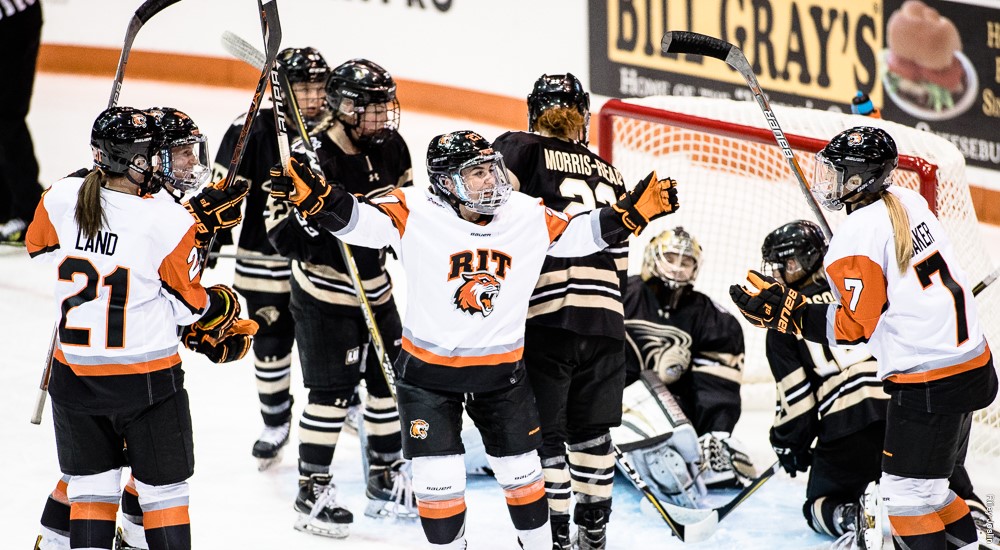 Courtesy of RITAthletics.com
ROCHESTER, NY – The RIT women's hockey team unveiled its schedule for the 2019-20 season on Thursday, June 20. The Tigers will play 34 regular-season games, including 20 contests from the Gene Polisseni Center in addition to one exhibition game.
RIT competes in College Hockey America, alongside Lindenwood University, Mercyhurst University, Penn State University, Robert Morris University and Syracuse University. The Tigers will play four games against each opponent: two at home, and two on the road.
On Sunday, Sept. 22, RIT hosts Concordia University in an exhibition. The Tigers open the regular season with four consecutive home games, first with a pair of contests versus the University of Vermont on Oct. 4-5 and two more versus St. Cloud State University the following weekend, Oct. 11-12.
RIT opens conference play on Oct. 18-19 with its first road trip of the season at CHA rival Mercyhurst. The Tigers return home to play five of its next six games at the Polisseni Center, starting with two contests versus Brown University of the ECAC on Oct. 25-26. RIT kicks off November with a home-and-home series against defending CHA Champion Syracuse. RIT is home on Nov. 1 and goes to Syracuse the next day. After a week off, RIT hosts Dartmouth College of the ECAC on Nov. 15-16.
The Tigers head on the road for four consecutive games, including back-to-back Tuesday night games against ECAC foes Union College on Nov. 19 and perennial contender Colgate University Nov. 26. The Tigers begin December with two games at CHA foe Penn State on Dec. 6-7 before coming home to face Division I newcomer Long Island University-Brooklyn to wrap up the fall semester from the Polisseni Center on Dec. 14-15.
"We are excited for the opportunity to compete against at least one opponent from every conference," said Chad Davis, Bruce B. Bates Women's Hockey Coach. "The 2019-20 schedule brings a variety of teams to the Polisseni Center and we look forward to defending home ice."
After a three-week break during the holiday season, RIT wraps up non-conference play with two home games against Sacred Heart University to ring in 2020 on Jan. 3-4. From there, RIT plays its final 14 games against conference foes. The Tigers host Robert Morris on Jan. 10-11 then head out to Lindenwood the following weekend, Jan. 17-18. January ends with two home games versus Mercyhurst on Jan. 24-25.
The Tigers are off to start February and return to action with a home-and-home series versus Syracuse on Feb. 7-8. RIT will host Penn State on Feb. 14-15 and play its final two road games against Robert Morris the following weekend. The Tigers wrap up the regular season with a pair of home contests versus Lindenwood on Feb. 28-29.
"We know every game in CHA play is a big challenge and we look forward to that," said Davis, the 2019 CHA Coach of the Year. "Overall, we like how our schedule is setup and will be ready to go."
The 2020 College Hockey America playoffs will take place over a three-day stretch from March 5-7, all at the HARBORCENTER in downtown Buffalo. The third- through sixth-place finishers will face-off in a first-round matchup (3 vs. 6, 4 vs. 5) on Thursday, March 5, while the top two teams receive a bye. The CHA Tournament Semifinals will take place on Friday, March 6, and the Championship will be held on Saturday, March 7. The league champion will receive an automatic berth to the 2020 NCAA Tournament.
RIT won back-to-back CHA Championships in 2014 and 2015 and appeared in its first NCAA Tournament as a Division I program in 2015. The Tigers won 12 games in 2018-19 and advanced to the first round of the CHA Tournament.
Season and single-game ticket information will be released in the near future at www.ritathletics.com and www.rittickets.com. Season ticket package renewals begin July 8, while new season ticket sales start for the RIT community July 22 and general public on July 26. Single game tickets will go sale on Aug. 12. For more information, contact the Gene Polisseni Center box office at 585-475-2516 or online at www.rittickets.com.