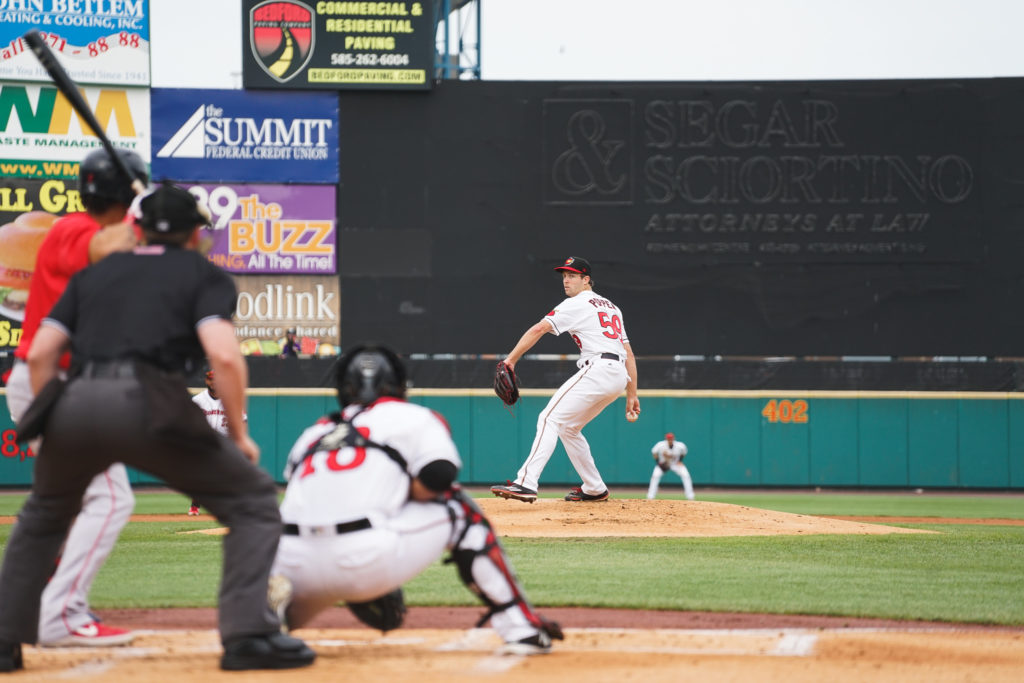 By KEVIN OKLOBZIJA
Sean Poppen's first appearance at a Triple-A ball park came before he had even gone through high school graduation ceremonies.
A native of Virginia Beach, Va., he sang the national anthem at a Norfolk Tides game.
Now he's making music with his fastball and sinker from the mound, not the microphone.
Poppen joined the Rochester Red Wings on Sunday — and it will be an extended stay as long as he performs well — and pitched six strong innings in a 9-2 victory over the Pawtucket Red Sox in a the completion of Saturday's suspended game.
The nightcap didn't go as well. While the Wings tied it 5-5 in dramatic fashion on Lamonte Wade's two-out, two-strike, two-run home run off Jenrry Mejia in the bottom of the seventh, the PawSox scored twice in the eighth and held on to win the extra-inning game 7-6.
Poppen was promoted from Double-A Pensicola on Saturday, with his official transfer to the roster taking place on Sunday. He took the mound for the top of the third with a 6-1 lead, thanks to the Wings' six-run outburst in the first inning before the rain came on Saturday night.
"It's good coming in with a five-run lead," he said. "You can basically say I'm just going to attack the zone."
Which is what he did fairly well, though he was irked mildly by his three leadoff walks. He did get help from two double plays as well as a nice sliding catch in left field by Wade in the fourth inning.
But Poppen also took care of a lot of business himself. He struck out seven and allowed only three hits. The one run he surrendered came in the seventh, a solo homer by Marco Hernandez that dotted the slash mark in RE/MAX on top of the right field pavilion.
"He has a nice fastball and it has good run to it," Wings manager Joel Skinner said. "He was aggressive and did a nice job."
Poppen's Triple-A debut came with the Wings back on April 10, an emergency spot start after being assigned to Double-A. He pitched five innings and allowed two runs on five hits. He then returned to Florida.
This time he's most likely going to be pitching for the Wings for a while, since they needed a starter. He was 2-3 with a 4.40 ERA and 1.64 WHIP. Adding an effective sinker to his repertoire has helped his development.
In regularly scheduled game, the Wings relied on the bullpen from start to finish, using five pitchers. Fernando Romero allowed four runs on three hits a walk and a hit batter in the fourth inning and Andrew Vasquez took the loss when he gave up two runs in the eighth.
The Wings mounted a rally in the bottom of the inning, scoring once and then putting runners on first and second with two outs before Tanner English struck out to end the game.
English stepped into the batter's box with an .059 average and nine strikeouts in his first 17 at-bats for the Wings. He joined the team Sunday.
Left-hander Josh Taylor struck him out to end the game.
Skinner could have instead used Tomas Telis (a switch hitter) or Nick Gordon (even if it would have been a lefty vs. lefty matchup). A lot of fans would have said he should have pinch-hit.
"It's something that crosses your mind, but these guys are here to get better and play," Skinner said. "You want to show confidence in all your players. If he gets a base hit, there's a flip side of that (pinch-hit argument)."
Injury updates
** Luke Raley will undergo surgery next week to repair an ankle tendon and is expected to miss the remainder of the season. He was hitting .302 with 7 homers, 21 RBI, a .362 OBP and .878 OPS.
"Any time you have a guy trending at the higher levels of his career path, it's tough to see," Skinner said of the injury.
** Left-hander Stephen Gonsalves will be out indefinitely because of a stress reaction in his left elbow. He had just come off the injured list to make his first appearance of the season on Tuesday but lasted just two innings.