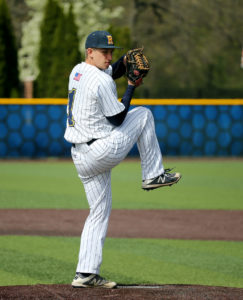 Courtesy of UofRathletics.com
WOOSTER, OH – The University of Rochester baseball team picked up its first ever win NCAA Division III Tournament play, defeating the 20th-ranked College of Wooster 2-1 on Friday afternoon at Art Murray Field.
Rochester (29-15) got a tremendous pitching effort from sophomore Jon Turk, and just enough offense from a 2-run home run by junior David Rieth to defeat the Fighting Scots (26-13).
Turk limited Wooster to just two hits over seven-plus innings of work, matching his career high in innings.  The sophomore lefty walked two and struck out five in the performance.
Junior Brendan Shamieh earned his Rochester record-tying ninth save of the season, surrendering one run over the final two innings, but shut the door on the victory with a strikeout, stranding the tying run at second base.
"Going in we were really prepared, we went over the scouting report a lot," said Turk following his team leading seventh win of the season.  "The game plan was to pound strikes. We know they were a good offensive team and take it right at them.  My fastball and slider we really working."
The home Fighting Scots had the games first scoring chance, getting a runner at second with two outs in the bottom of the first inning.  With two outs, Dan Harwood drew a walk.  A ball in the dirt left Harwood picked off in no-mans land in between first and second, but Wooster benefited from a throwing error on the rundown to allow the runner to move up.
Turk escaped with a harmless groundout to second base.
Rochester's Steve Pickering recorded the first hit of the game with a single to left center in the top of the second, but he was stranded at first base.
A 1-2-3 second inning for Turk set up Rochester to take the lead in the top of the third.  Jake Hertz led off with a four-pitch walk.  After a strikeout, Rieth took a 1-0 fastball from Wooster starter Andrew Hill and smacked a home run over the left field fence, putting Rochester up 2-0.
"He [Hill] had my number first at bat, striking me out with a high fastball," said Rieth.  "I was just looking for something out over the plate, and I was lucky enough to get a good pitch and put a good swing on it."
Rochester's Turk settled in, setting down 15 batters in a row after the first inning walk.  His streak ended when Jake Sturrsman hit a hard single for Wooster's first hit, finding between third and short in the bottom of the sixth inning.
In the seventh, UR got a leadoff single from Pickering, but the sophomore was caught stealing for the first out.  After a ground out, the Yellowjackets mounted a two-out rally with Hertz getting hit by a pitch and Kyle Trombley following with a double down the left field line.
The runners ended up being stranded in scoring position when Fighting Scots reliever Wyatt Linde struck out Rieth to end the inning.
Wooster got a leadoff single from Harwood in the bottom of the seventh, but he was left at first when Turk got two flyouts and his fifth strikeout.
Turk walked the leadoff hitter in the eighth, yielding the mound to Shamieh who retired the next three hitters in order, sending Rochester to the ninth inning up 2-0.
In their last ups, Wooster was able to make things interesting, scoring a run on two singles and a groundout, but Shamieh left the tying run at second base with a strikeout of Dan Gail.
Hertz finished 1-for-1 for UR, reaching base all four times.  He had a single, two walks, and was hit by a pitch while also scoring a run.  Pickering went 2-for-4 at the plate, while Rieth finished 1-for-4, but provided the big home run.
Wooster's Harwood went 2-for-3 with a run and walk.  Nick Strausbaugh drove in the Fighting Scots run with a fielders choice groundout in the ninth.
"It was a very good game all around, said UR head coach Joe Reina.  "Both guys on the mound did a fantastic job, but we were just fortunate to get a big hit by David."
Hill ended up tossing 6.2 innings for Wooster, striking out seven while giving up five hits and two runs.  Linde struck out two and allowed two hits in finishing off the game.
"I really feel like having confidence is the only way to come into the game, explained Turk.  "I had to trust myself, trust David and my defense behind me and it all worked out."
Turk's seventh win of the year is tied for second most all-time in a single-season in Rochester history.  John Ghyzel was the last to reach that number, back in the 2016 campaign.
"What the guys went through in the conference tournament, fighting out of the losers bracket is not an easy thing to do," said Reina, "but whatever challenge lies in front of them, they are willing to take it head on"
The Yellowjackets now will play in the regionals winners bracket game on Saturday afternoon at noon against the winner of Friday's other matchup between Case Western Reserve University and Otterbein University.
Reina didn't want to get too far ahead of himself after the win, saying "Every team here is very good. There is still a lot of baseball left to be played."