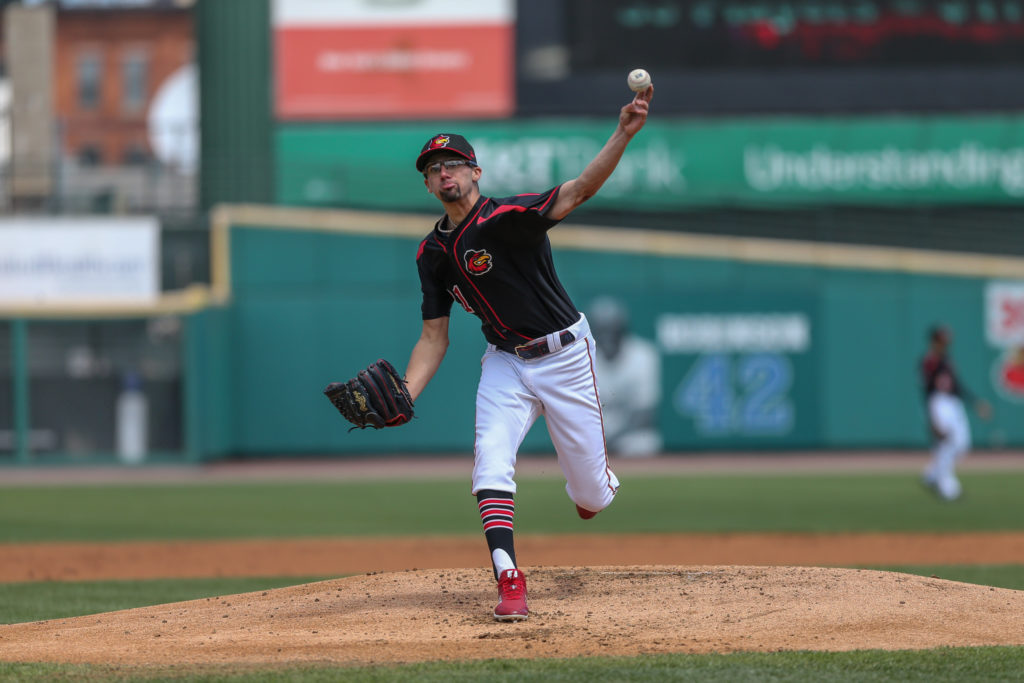 Courtesy of RedWingsBaseball.com
ROCHESTER, NY – Devin Smeltzer is excited to partner with 500 Level to unveil a lineup of Catch Cancer Looking apparel. All proceeds will benefit Katie's Krusaders, an organization focused on helping cover expenses for pediatric cancer patients. As a pediatric cancer survivor, Devin strives to support patients going through this arduous journey.
Smeltzer, a lefthanded pitcher currently at the Triple-A level in the Minnesota Twins organization, was diagnosed with a grapefruit-sized malignant mass at the age of nine. After undergoing intensive chemotherapy and radiation, he was pronounced cancer-free in 2012. Originally selected by the Los Angeles Dodgers in the fifth round of the 2016 draft, the southpaw was traded to the Twins in 2018. Since his debut in professional baseball, he has made it his mission to create awareness and raise funds for children undergoing pediatric cancer treatments and supported Katie's Krusaders through a variety of events and campaigns.
Katie's Krusaders is an organization founded in memory of Katie Ann Duffin. Katie was diagnosed with PNET (Primitive Neural Ecto Dermal Tumor) at the age of six months. After undergoing surgery and chemotherapy treatments, things seemed to be going well for quite some time. About four years later, another tumor was discovered. Sadly, the treatments were unsuccessful, and Katie passed away on August 12, 2003, eleven days shy of her fifth birthday. Katie's family and friends found a way to keep her memory alive through Katie's Krusaders, which helps children and families who are faced with the difficult reality of childhood cancer.
Catch Cancer Looking shirts and hoodies in men's, women's and youth sizes, as well as baby onesies are available for purchase on the 500 Level website. An outline of Smeltzer's unique sunglasses and goatee look is featured with the #CatchCancerLooking hashtag and the inscription, "Love your life. Perfect your life. Beautify all things in your life. Seek to make your life long and its purpose in the service of your people."
Website link: https://www.500level.com/collections/devin-smeltzer-catch-cancer-looking.