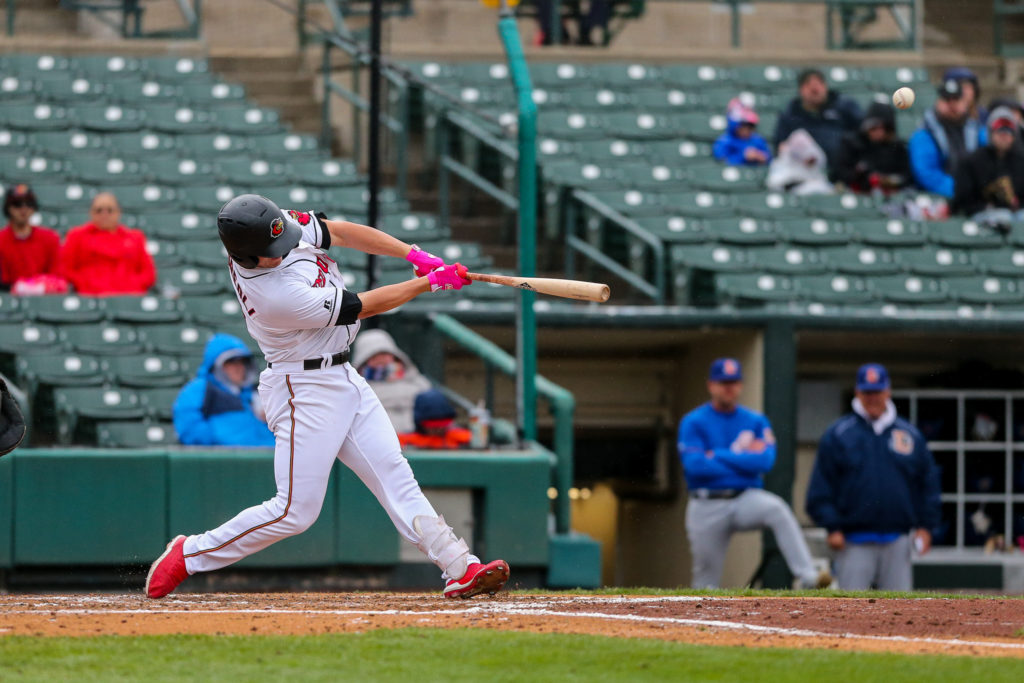 By KEVIN OKLOBZIJA
If John Andreoli has learned one thing during his 10 years in professional baseball, it's to expect the unexpected.
"In this game," the Rochester Red Wings outfielder was saying late Sunday afternoon, "a lot can happen fast."
Want proof? Andreoli can provide it with real life examples from: a) his off-season, and b) his Sunday when his grand slam powered the Wings (14-19) to a 6-4 victory over the Durham Bulls at Frontier Field.
First, the off-season.
In a span of less than five months, his named appeared on the rosters of five different organizations.
On Oct. 31, he was claimed on waivers by the Seattle Mariners from the Baltimore Orioles. On Jan. 10, he was designated for assignment by the Mariners and claimed five days later by the Texas Rangers. The Rangers then DFA'd him on Jan. 29, opening the door for a claim by the San Francisco Giants on Feb. 1.
And to cap it all off, he was traded near the end of spring training by the Giants to the Minnesota Twins on March 23.
"It was definitely a different off-season," the 28-year-old native of Worcester, Mass., said. "I was just trying to worry about where my feet were that day.
"At first I was looking at things (like rosters and depth charts) but once the process started I just worried about what I could control. I'm absolutely thrilled I landed with the Twins."
The Wings are pretty happy he's here, too. Even if Sunday was supposed to be a day off for the veteran outfielder. But once again, expected the unexpected.
Just three batters into the home half of the first inning, Lamonte Wade Jr. was ejected for barking about a questionable third-strike call by plate umpire Charlie Ramos.
Andreoli's afternoon off lasted less than 20 minutes. He entered the game as the Wings substitute center fielder.
Wings manager Joel Skinner said he talked to Wade about the loss of temper. "You never want to put yourself in those positions," Skinner said.
Ah, but as it turned out, Wade's exit provided opportunity for Andreoli, whose slam in the fourth inning off Ryan Merritt turned a 3-2 deficit into a 6-3 lead. It was his first career grand slam.
Merritt had just issued a bases loaded walk to rehabbing Miguel Sańo, forcing home the Wings second run of the game.
Andreoli had drawn a walk from Merritt in the third inning, and after now in the fourth the Durham lefty fell behind 2-0 on two inside pitches before getting foul-balls strikes on two pitches on the outer half of the plate.
"I had an idea he'd probably come back inside to try to get the ground ball for the double play," Andreoli said.
The next pitch was indeed toward the inner half. There was no ground ball, however. Andreoli drove the pitch over the wall in left field for his fourth homer of the season.
#MothersDay Lunch Menu: Grand Salami sandwiches made special by @JAndreoli7!

MID 6: 6-3 Good Guys pic.twitter.com/LFJCoYUuWm

— Rochester Red Wings (@RocRedWings) May 12, 2019

Then came added excitement on the base paths. Andreoli didn't really go into a home-run trot. It was more like a rapid cantor.
Sano, however, was trotting. Maybe the best grand slam trot ever by a player who didn't hit the slam. And if Andreoli hadn't been paying attention, he would have run right past the Twins slugger nearing second base.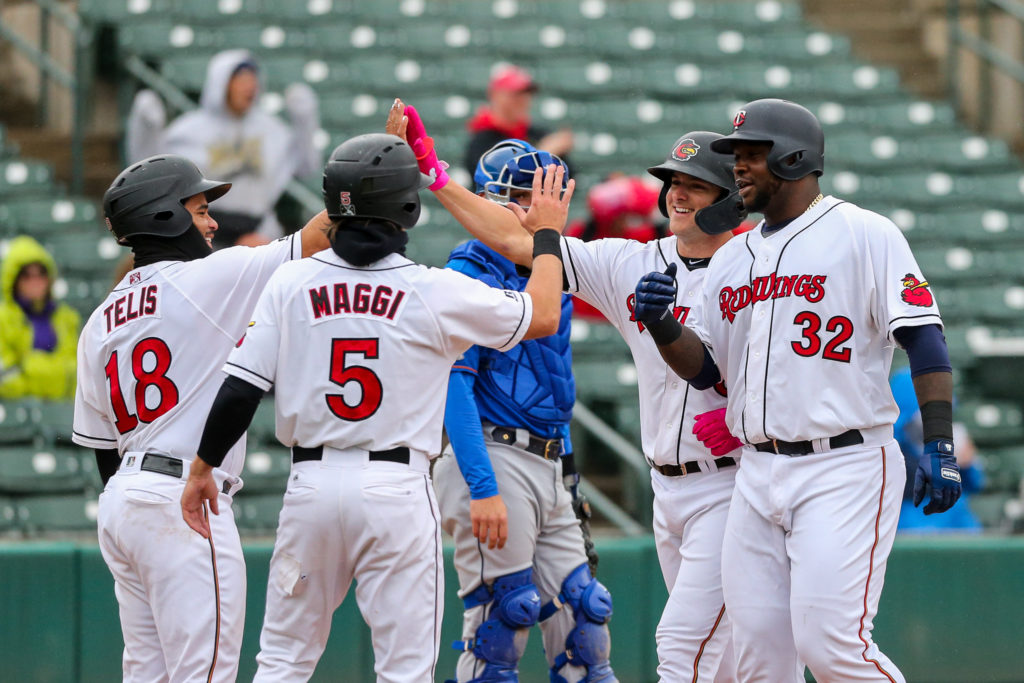 "I looked up and he was right there so I had to make sure I didn't pass him," Andreoli said with smile. "Sano's a pretty big guy; I wasn't going to rush him. He can take his time."
Wings starter Lewis Thorpe made sure those six runs were enough. He worked seven innings, striking out seven. He surrendered a two-run homer to Michael Brosseau and solo homer to Jason Coats on back-to-back pitches in the top of the fourth and otherwise was in control.
Notes: Sano went 2-for-4 with two doubles, two runs and two strikeouts. That's after an 0-for-4 start to his rehab assignment on Saturday when he struck out three times. "He felt like he was seeing the ball better," Skinner said.
The game was played with the temperature in the low- to mid-40s, a stiff breeze and intermittent drizzle/rain. The Wings said all tickets for the game will be treated as rain checks, so they may be exchanged for another game this season.