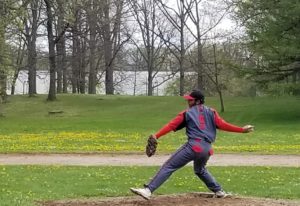 By JOHN LIKANJE
ROCHESTER, N.Y. – It took 13 games and 33 days. But on a beautiful and sunny Saturday afternoon at Genesee Valley Park, Max LaMorra hustled for an infield single and lifted the Wilson Magnet Wildcats to a 14-13 extra-innings win over the NE Douglass Panthers, their first victory of the season.
"Both teams were fighting as hard as they could all game," LaMorra explained. "It went back and forth all game. There was a lot of good hits, a lot of good plays in the field. I think it just boiled down to whoever wanted it more and I guess we did."
"A little bit relieved," Wildcats head coach Barry Burke said on his squad notching their first win. "It was a tough game. We made a lot of mistakes. They (NE Douglass) made a lot of mistakes. Both teams are very young teams. We started today with five freshmen in the starting lineup, which is almost unheard of. We've been hurt pretty badly by injuries."
Trailing 13-10 going into the bottom of the ninth inning, the Wildcats sent eight men to the plate and scored four runs on a pair of hits. Pedro Ortiz and Xavier Williams both drew a walk. Freshman Yaliel Bonilla was hit by a pitch. With two outs and the bases loaded, Jose Gonzalez singled up the middle and drove in Ortiz and Williams to trim the deficit to 13-12.
"The other guys really stepped up," Burke explained on his squad's resilience. "We saw some guys that barely got hits all season go 2-for-3 today."
Edwin Soto drew the third walk of the inning for the Wildcats, forcing a pitching change for the Panthers. With two strikes and the bases loaded again, LaMorra hit a chopper toward the shortstop. Although LaMorra beat the throw to first base, the ball sailed out of play toward a picnic table, allowing Gonzalez to score the game-winning run.
"My approach was don't strike out," LaMorra said. "It was two outs and bases loaded. I didn't want to strike out to end the game."
Max Lamorra's two-run single in the bottom of the 9th inning gives Wilson the 14-13 victory over NE Douglass. It's the 1st win of the season for the Wildcats, who rallied from 5 separate deficits in this game. @PickinSplinters @Wheyen3 @baseballsectv pic.twitter.com/ciPptsvwEN

— John Mitchell Likanje Junior (@jml5798) May 11, 2019
For the game, LaMorra was 2-for-6 with a pair of RBI. The freshman second baseman singled to right field and drove in Gonzalez to tie the game at one apiece in the bottom of the first inning.
"There were a lot of good pitches, but as with any real at-bat, you got to wait for your pitch and hit it," LaMorra said on his approach at the dish. "As my coach has been telling us all season, you got to keep your head on it and you got to watch it all the way in."
"Max's batting has gotten progressively better throughout the year," Burke said about his second baseman. "He's a freshman, so we've got a lot of work to do. He's a big guy and he's just getting used to his growth spurt. He's kind of all over the place, so it's important for the coaches to try and make his swing a little bit more compact. He always needs to be moving towards the pitcher. He got into a little bit of a habit of moving that front foot away from the pitcher and thus pulling his bat away from the batting zone."
Bonilla went 3-for-4 with a pair of walks, three RBI, a stolen base and three runs scored. The freshman catcher sent the game to extra innings with an RBI single to right field to score Frohe.
"Bonilla's been a leader on this team, despite the fact that he's a freshman, all year long," Burke explained about his catcher. "Again, it's almost unheard of for a freshman to be a leadoff hitter. He's got a good feel for the plate. He's around the plate a lot as a catcher, so he's comfortable there. He steps into the ball well, he keeps his head down on the ball and even when he maybe doesn't get a hit, he always puts the ball in play. Always gives 110% and I'm really looking forward to coaching him for the next three years."
Yaliel Bonilla sends the game to extra innings with this RBI single to right field. End of 7: NE Douglass and Wilson tied at 10. @PickinSplinters pic.twitter.com/m208ngiOBv

— John Mitchell Likanje Junior (@jml5798) May 11, 2019
Soto reached base in five of his six plate appearances. The third baseman singled twice, drew a pair of walks, reached on an error, drove in a run and crossed the plate once. Soto came in relief and fanned 12 batters in five innings as well.
"Sotot's just a natural leader," Burke explained. "And even when he makes a mistake, he doesn't hold onto it. He keeps playing and he works hard. He's a very coachable guy. When he makes a mistake, you tell him what he did wrong and he corrects it right away. I never have to tell him a second time. He's still growing, he's only a junior."
Gonzalez reached base four times. The first baseman singled twice, was hit by a pitched, reached on an error, stole a base and scored three runs.
"I've been seeing the same thing from him all year long," Burke said about Gonzalez. "He's a clutch hitter. He probably would be my leadoff hitter except for the fact that Bonilla's got a little bit more speed. If Bonilla can get on base, I can get my guy in my second position to move him along."
Ortiz and Williams both singled and drew two walks. The Wildcats rallied from five separate deficits: 1-0, 7-1, 8-7, 10-8 and 13-10.
"The bottom of our order (Frohe, Ricky Santiago and Williams) today really carried us, to be honest with you," Burke said. "They looked at pitches, they got walks, they hustled, got a couple of key hits. My hat's off to the bottom of the order."
For the Panthers, Quadir McKnight singled twice, stole a pair of bases, drove in three runs and crossed the plate once. Ramon Cruz went 2-for-4 with a hit by pitch and a stolen base. The shortstop gave the Panthers a 10-8 lead in the top of the seventh inning with a two-out, two-run single to right field. Angel Morales walked twice, was hit by a pitch and drove in two runs.
Angel Morales is hit by a pitch with the bases loaded and NE Douglass add on 2 more runs to take a 13-10 lead over Wilson going to the bottom of the 9th inning. @PickinSplinters pic.twitter.com/883NcaP7e4

— John Mitchell Likanje Junior (@jml5798) May 11, 2019
Wilson Magnet will play Leadership Academy Monday at 4:30 PM.