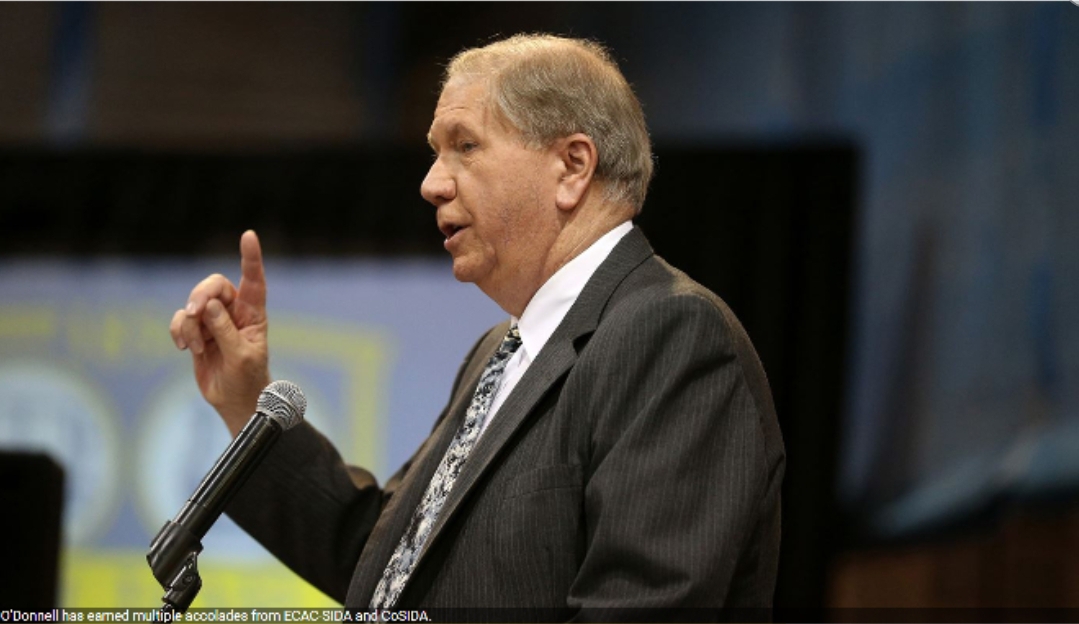 Courtesy of uofrathletics.com
ROCHESTER, N.Y. – An already long list of awards for Rochester Director of Athletic Communications Dennis O'Donnell has gotten even longer as O'Donnell was named the 2019 recipient of the Pete Nevins Award for Distinguished Achievement from the Eastern Collegiate Athletic Conference-Sports Information Directors Association (ECAC-SIDA).
The award, established in 2007, is presented to an individual in recognition for their advancement of the field of athletic communications and advocacy for intercollegiate athletics.  The winner must have served at least 25 years in the sports information field, and be either a current or former member of ECAC-SIDA.
The winner is chosen by former Nevins award winners and is presented at the discretion of the ECAC-SIDA Executive Board.  Only one winner may be chosen each year.  It was created in honor of Pete Nevins, the longtime Sports Information Director at East Stroudsburg University.
O'Donnell has enjoyed a nearly four decade run in the sports information profession, serving as the University of Rochester Director of Athletic Communications since 1988.  He oversees the public relations, statistical work, athletics website and game operations duties for all of UR's 23 varsity sports.
He is a nationally recognized sports information professional, achieving Hall of Fame status from the College Sports Information Directors of America (CoSIDA) in 2007, was selected as CoSIDA's Warren Berg Award winner in 2010 and earned CoSIDA's 25-year award back in 2006.  In addition, ECAC-SIDA recognized O'Donnell with the Irving T. Marsh Award in 2003 for his excellence in the field of Athletic Communications.
O'Donnell is also active with CoSIDA and ECAC-SIDA having served on various committees throughout his time in the profession, including serving on the CoSIDA board from 2002-05.  He currently serves on CoSIDA's special awards committee and recently was D3-SIDA's regional representative for New York's District.
He also has served as ECAC-SIDA and CoSIDA workshop moderator for numerous panels throughout his time and was active for a number of years with the CoSIDA program committee, helping plan the national convention for Sports Information Directors.  O'Donnell also was workshop chais for the ECAC-SIDA convention hosted in Rochester in 1999 and the CoSIDA convention's organizing committee co-chair in 2002.
The Long Island native began his sports information career in 1974 at the U.S. Merchant Marine Academy where he worked as Sports Information Director from 1974-78 and 1984-88.  He has been in Rochester ever since and has seen UR teams capture two team national championships and helped host countless NCAA and conference competition.
Since coming to Rochester, 86 student-athletes have earned Academic All-American honors from CoSIDA, an effort backed tirelessly by O'Donnell throughout his years.
O'Donnell resides in Perinton with his wife of 38 years, Carol, and daughter Megan.
The award will be formally presented at the ECAC-SIDA annual workshop from June 4-7, 2019 at the Sheraton – Framingham in Framingham, Massachusetts.