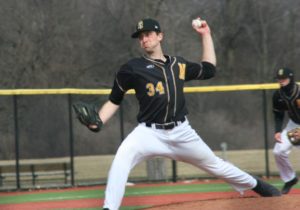 Courtesy of MCCTribunes.com
ROCHESTER – Sunday's doubleheader with Genesee featured two very different games. But the outcome was all that mattered for the MCC baseball team as the Tribunes took a pair of contests from the Cougars to cap a perfect weekend.
Sam Loew hit a two-run, walkoff single to give Monroe a come-from-behind, 6-5 win in the opener. The Tribunes then exploded for 11 runs in the second inning of game two and went on to win 16-2 in a game shortened to five innings due to the mercy rule.
The sweep came on the heels of two wins over the Utica College JVs on Saturday. MCC is now 9-11 on the season.
The Tribunes trailed 5-4 heading to the bottom of the seventh in game one before staging the game-winning rally. Phil Ferranti led off with a double to deep center and Jose Ramos followed with a walk.
Sean Flannery came on to pinch hit and put down a sacrifice bunt that was so good, he beat it out for a single. The Cougars brought in a reliever to face Loew, who promptly lined a single to left to plate Ferranti and Ramos to win the game.
Liam Devine once again shined in relief to earn the win out of the pen for Monroe. The lefty went 2.2 scoreless innings, allowing two hits while striking out a pair.
Loew finished with three RBIs on the game. Ramos, Ferranti, and Trey Brown all had two hits apiece. Brennan Smith was 1-for-2 with two walks and two runs scored.
Monroe took advantage of some early wildness from the Genesee staff to take a lead in the nightcap. The Tribunes scored three runs without registering a hit in the bottom of the first.  The frame featured three walks, three hit batters, two wild pitches, and a passed ball.
MCC then put up 11 runs on eight hits in the second inning to break the game open. Brown and Ferranti each had two-run singles, and Ramos, Loew, and Evan Magill also drove in runs.
Flannery finished 3-for-3 with three runs scored on the game. Magill, Loew, and TJ Lucey all added two hits.
Devon Robb went the distance to get the win for Monroe. He scattered nine hits, allowed two runs, and struck out seven.