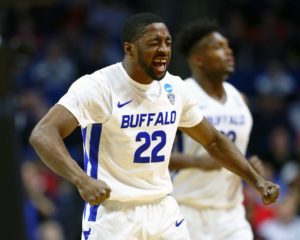 Courtesy of UBBulls.com
TULSA, OK – For the second straight season, the University at Buffalo men's basketball team rather easily defeated an opponent from the Pac-12 Conference in the first round of the NCAA Tournament. The sixth-seeded Bulls defeated 11th-seeded Arizona State, 91-74, at the BOK Center in Tulsa, OK on Friday afternoon to advance to the Round of 32.
Trailing 14-10, the Bulls used their patented defense to mount a 21-5 scoring run, thanks to a number of buckets in transition, and took a 31-19 lead, setting the tone for the rest of the game. UB's lead stayed in double-figures for the remainder of the game and it took a 44-31 into the locker room at the break.
Nick Perkins was an early spark for Bulls. The senior forward led all scorers with 12 first-half points on 5-of-9 shooting. Jeremy Harris and CJ Massinburg each added nine first-half points to pace UB.
Arizona State cut the Buffalo lead to 46-37 early in the second half, but the Bulls responded with an 11-2 scoring run, capped by a Harris layup to take their largest lead of the game, 57-39, with 14:47 left. The Bulls were able to build their lead to as many as 25 points midway through the second half and the Sun Devils never threatened again.
Perkins finished with 21 points and added 10 rebounds for his fifth double-double of the season. Harris tallied identical numbers with 21 points and 10 rebounds as well. Massinburg had 18 points and Jayvon Graves added 13 points to round out the Bulls in double-figures.
Though not nearly as big as Arizona State, the Bulls commanded the glass, outrebounding the Sun Devils, 42-26. Buffalo had 13 offensive rebounds and scored 16 second chance points. Defensively, UB held Arizona State without a three-pointer in the first half and just 3-of-22 from beyond the arc in the game.
"I'm really proud of our guys," head coach Nate Oats said. "They showed their experience. We kind of settled in there after about the first 8 minutes on defense and forced some tough shots. You know, I told these guys coming in, if we can get our turnovers down and win the rebounding battle, I think we'll win."
The win improved the Bulls to 32-3 on the year and extended their win streak to 13 games.
The Bulls will next play third-seeded Texas Tech on Sunday. The Red Raiders won their first-round game, 72-57, of Northern Kentucky.