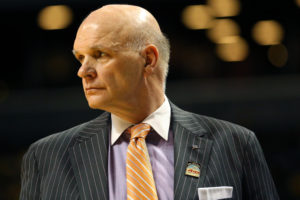 Courtesy of SJUHawks.com
PHILADELPHIA (March 19, 2019) – Today, Saint Joseph's University (SJU) announced its decision to make a leadership change in its men's basketball program. The University will immediately begin a search for a new head coach, with the goal of filling the position in the coming weeks.
Coach Phil Martelli stands out among his peers in college basketball not only for his long tenure and the many accolades that he and his teams have achieved, but also for his engagement with the community and his service as an ambassador for SJU. The University recognizes and celebrates the history and heart that Coach Martelli brought to the program and thanks him for his long service, dedication and stewardship.
As basketball is an important strategic asset for Saint Joseph's, the University will move forward with the intent to build upon its storied history, develop a sustained culture of excellence, and consistently compete for NCAA Tournament appearances and conference championships.