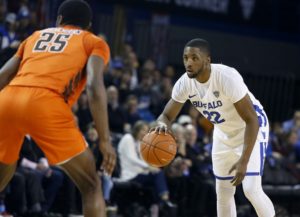 Courtesy of UBBulls.com
CLEVELAND, OH – The University at Buffalo men's basketball team cruised to an 82-46 win over Akron in the quarterfinals of the Mid-American Conference Tournament at Quicken Loans Arena on Thursday afternoon. The top-seeded Bulls never trailed in the 36-point victory.
Entering the game, Akron was one of the top defensive teams in the MAC and frustrated the Bulls in both regular-season matchups. However, Buffalo was the defensive aggressor on Thursday, holding the Zips to only 24 percent shooting for the game, including just a 4-for-24 performance from the field in the first half. Akron's 46 points were the fewest the Bulls allowed in a game all season. Conversely, it was the most points the Zips allowed in a regulation game this year.
"I thought our defense has been the best it's been all year for 40 minutes," head coach Nate Oats said.  "In March, sometimes you're going to make shots, sometimes you're not.  If you rely on making shots, you're going to go home early a lot of times.  If you rely on your defense, your toughness, your rebounding, I can think you can go a long ways.  That's what we've been preaching, that's what these guys believe in, that's what they do."
Five Bulls scored in double-figures, led by Jeremy Harris who tallied a game-high 23 points on 10-of-16 shooting. The senior guard added eight rebounds and three blocks. Dontay Caruthers scored 12 points, while not missing a shot in the game. The senior guard finished 2-for-2 from the field, 1-for-1 from three and 7-for-7 from the free throw line. The MAC Defensive Player of the Year also had four steals in the game.
Jayvon Graves added 13 points, Nick Perkins had 11 and CJ Massinburg had 10 points to round out UB's double-figure scoring.
The Bulls were dominate inside, outscoring Akron, 44-20, in the paint. Buffalo outrebounded the Zips, 55-36. UB had 12 offensive rebounds and scored 16 second-chance points. The 55 rebounds were a season high. Five different Bulls had six or more rebounds, led by Massinburg's nine.
The Bulls broke open the game midway through the first half when they went on a 24-2 run to turn a 6-6 tie into a 28-8 advantage. The offense of Harris and defense of Caruthers sparked the run. UB led 38-21 at the half.
The second half was all UB. With the Bulls leading 50-35, they went on a 17-2 scoring run to extend their lead to 67-37 with 7:34 left and end any chance of an Akron threat.
The Bulls will next play the winner of the Kent State vs. Central Michigan game at 6:30 pm on Friday night.