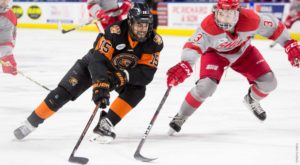 Courtesy of RITAthletics.com
BRIDGEPORT, CT – The No. 5 seed RIT men's hockey team (16-16-4) opened the game with five unanswered goals and withstood a third period rally for a 7-3 win over fourth-seeded Sacred Heart University (16-16-4) in game two of the Atlantic Hockey Quarterfinals from Webster Bank Arena Thursday night. The best-of-three series is now even at 1-1, with a winner-take-all game three to be played Friday night at 7:05 p.m.
The Tigers led 3-0 after one period of play and 5-1 after two periods to improve to 8-1 all-time in game twos of the Atlantic Hockey Quarterfinal series.
The line of Alden Dupuis (Edmonton, Alberta/Bonnyville Pontiacs), Shawn Cameron (Sherbrooke, Quebec/Cumberland Grads) and Jake Hamacher (Corona, CA/Dubuque Fighting Saints) led the RIT attack by combining for 10 points and a plus-10 rating. Dupuis recorded a career-high four points on a goal and three assists and was plus-4, while Cameron tallied two goals and an assist and Hamacher added a goal and two assists. Ryan Kruper (Sherwood Park, Alberta/Sherwood Park Crusaders), Chris McKay (Edmonton, Alberta/Sherwood Park Crusaders) and Adam Brubacher(Elmira, Ontario/Powell River Kings) also scored for the Tigers. Goaltender Logan Drackett (Calgary, Alberta/Calgary Canucks) was strong between the pipes, stopping 36 shots for his 13th win of the season.
Alex Bates, Ryan Steele and Todd Goehring scored for the Pioneers, while Jason Cotton added two assists. Josh Benson started in net, stopping three shots before being pulled 16 minutes in. Brett Magnus went the rest of the way, stopping 14 of 17 shots.
Sacred Heart out-shot RIT, RIT was 1-for-4 on the power-play and killed off all six Sacred Heart power-play attempts, including 1:27 of a 5-on-3 advantage late in the opening period. In addition, RIT scored its eighth shorthanded goal of the season.
"We got some timely goals and played more determined and physical tonight," said RIT head coach Wayne Wilson. "Our penalty killing was very good tonight. Overall, it was just a more determined, gritty effort. We will try to duplicate this tomorrow night."
In what was a complete reversal from game one last night, RIT seized command in the opening period, scoring three times in a span of 8:03 to lead 3-0 after 20 minutes of play.
Cameron opened the scoring 8:03 into the game, taking a long feed from Zach Salloum (Orleans, Ontario/Ottawa Jr. Senators) at center ice and darting into the Sacred Heart zone on a 2-on-1. Cameron was shooting all the way and his shot from the right side of the slot eluded Benson over the shoulder for his eighth goal of the season.
RIT would make it 2-0 moments later, as Kruper received a pass from Jake Joffe (Toronto, Ontario/Toronto Jr. Canadiens)in close, and in one motion, spun and fired a perfectly placed backhander over the shoulder of Benson and just under the crossbar for his third goal of the season.
McKay would continue the scoring onslaught for RIT in the opening period, one-timing a pass from Dupuis at the right point that eluded Benson for his first goal of the season with 3:54 to give RIT a 3-0 lead.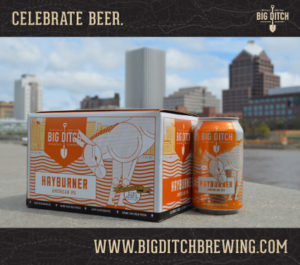 Benson would be pulled in favor of Magnus after McKay's goal. Magnus was tested immediately after, making a big glove save on Hamacher, as he came streaking in on a 2-on-1 break.
Drackett made a huge save on Steele from the slot off a giveaway late in the first period to keep it 3-0. RIT's penalty-killing unit would come up big at the end of the first period and start of the second period, killing off 1:27 of a 5-on-3 man-advantage for the Pioneers.
Drackett would make several big stops over the first half of the second period to keep it 3-0, none bigger than a sprawling save on Marc Johnstone from the doorstep.
RIT would add to its lead with a pair of goals 2:22 apart later in the period to go up 5-0. Dupuis would take a perfect feed on an odd-man rush from Cameron and get Magnus to commit one way, before sliding a backhand in the open side for his third goal of the series and 10th of the year to give RIT a 4-0 lead.
Cameron made it 5-0 with 4:35 left in the period, taking a long pass from Hamacher, and coming in all alone on Magnus before roofing a backhander into the top corner for his second goal of the night and ninth tally of the season.
Bates would wrist a shot that just squeezed through the arm and body of Drackett with 1:10 remaining in the period to get the Pioneers on the board.
Sacred Heart came out hard in the third period and cut RIT's lead to 5-2 just 2:39 in, as Steele got behind the RIT defense and slipped a backhander between the legs of Drackett. The Pioneers made it even more interesting, getting a goal from Goehring with 7:46 left to make it a 5-3 game.
RIT would get a power-play with 4:40 remaining and score just under a minute later, as Hamacher slammed in a loose puck right at the goal line after Magnus got a piece of Erik Brown's (Keene, Ontario/Kemptville 73's) shot. Abbott Girduckis(Belleville, Ontario/Wellington Dukes) also assisted on the goal.
Brubacher would complete the scoring with 58 seconds left with a shorthanded empty net tally, firing a shot from his own goal line down the length of the ice, right into the middle of Sacred Heart's open net for his seventh goal of the season.
Last night, Sacred Heart scored six unanswered goals over the second and third periods to take game one over the Tigers, 9-4. RIT leads the all-time series between the two schools, 26-13-2.
This will mark the second straight season that RIT and Sacred Heart will meet in a decisive game three of a postseason series. RIT and Sacred Heart will meet for the seventh time this season in game three tomorrow night and 12th time over the last 13 months.
The winner of tomorrow's decisive game three will advance to the Atlantic Hockey Semifinal, which will be played on Friday, March 22 at Harborcenter in Buffalo. RIT will be playing in its sixth winner-take-all game three at the Division I level.