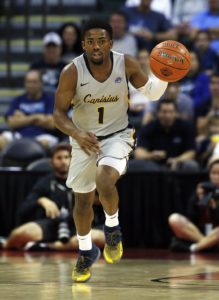 Courtesy of GoGriffs.com
Niagara University jumped out to an early nine-point lead and never trailed, as the Purple Eagles held off Canisius for a 78-70 win Wednesday night in the Gallagher Center in Lewiston, N.Y. The win moves Niagara to 11-11 overall and 4-5 in MAAC play, while the Golden Griffins, who saw their three-game win streak come to an end, fell to 8-12 overall and 5-3 in league action.
Canisius senior Jonathan Sanks scored a career-high 16 points in the losing effort for the Blue and Gold, while fellow seniorJibreel Faulkner chipped in 13 points. Junior Malik Johnson had 12 points, matched a career-high with nine assists and recorded four steals for Canisius, which ended the night shooting 47.5 percent from the field, 31.8 percent from 3-point land and 71.4 percent from the free-throw line.
"We didn't play well in the first half, I thought we dug ourselves too big of a hole and our energy level was way too low to start," Canisius head coach Reggie Witherspoon said. "In the second half, we gave a much better effort, we played hard, we fought and scrapped. We need to play like that from the opening tip, we need to be ready to go."
Niagara senior Marvin Prochet led all scorers with a game-high 23 rebounds to lead four Purple Eagles in double-figures. Fellow senior Dominic Robb was good for 14 points, six boards and three blocks, with James Towns and Greg King added 11 and 10 points, respectively. Niagara shot 49 percent from the field in the win and made 81.5 percent (22-for-27) of its chances from the charity stripe.
Niagara used a 9-0 run over the span of 2:11 to turn a 4-4 game into a 13-4 lead in the early stages of the first half. In that run, Chris Barton scored four points and Prochet added the other five for Niagara, who would eventually take a 12-point lead at 32-20 with 4:12 left before intermission. An alley-oop dunk by Faulkner off a feed from sophomore Scott Hitchon got the Griffs within nine at 36-27 with 1:31 left before halftime, but Niagara closed the half on a 6-0 to send the home team up 42-27 after 20 minutes of play.
"When you play a team like Niagara, a team that can score a couple of different ways, you can't afford to feel your way into the game," Witherspoon added. "That's what we did tonight, we started too slow. This is something that we've been dealing with recently, and we're going to have to clean it up."
In the second half, Niagara stretched its lead to as many as 17 points in the early going of the frame, but Canisius battled back, using a 9-0 run over the span of 2:25 to make the score 51-47 in favor of the Purple Eagles. In that run, Sanks scored four points, and a 3-pointer by sophomore Takal Molson with 13:02 left on the clock forced Niagara to take a 30-second timeout. A jumper by Faulkner with 11:06 left to play got Canisius within three points at 53-50, but Niagara answered with a 12-3 run to stretch the lead back to 10 points at 65-53 with 8:17 left in the contest.
A traditional three-point play by Faulkner with 1:24 left in the contest put Canisius within two points at 72-70, but that would be as close as the Blue and Gold would get the rest of the way, as Niagara scored the game's final six points, with four of those coming at the free-throw line courtesy of Prochet, to seal the win.
"As you saw in the second half, when we moved the ball and played solid defense, we worked our way back into the game. I thought when we got within two late, we had gotten over the hump, but then they scored the next time down the floor and we lost our poise and turned it over."
This was the 184th all-time meeting between the two long-time rivals, with Niagara leading the series 101-83. Canisius was credited with 19 assists on 29 made field goals in the losing effort, led by Johnson's nine. Those nine assists gives him 371 for his career, leaving him two assists shy of passing former Griff Duke Richardson for sixth all-time in the school's career assists list. The five assists for Hitchon set a new career high.
Sophomore Jalanni White matched a career-high with nine points and he also was credited with a block, giving him one blocked shot in seven of the team's eight league games to date. Sanks scored his 16 points after going 6-for-11 from the field, with the six makes setting a new career high. Molson scored nine points in the loss, ending his string of scoring in double-figures at 23-straight games, dating back to last season. Molson led the Griffs with seven rebounds, as the Blue and Gold ended the night on the short-end of a 34-27 rebounding count.
Up Next
Canisius will return to the floor Friday, Feb. 1, when the Griffs play host to Quinnipiac at the Koessler Athletic Center. Game time is set for 7 p.m. The contest will be broadcast live on ESPN3, with the radio call available on WECK-Radio Buffalo, GoGriffs.com and the TuneIn app.