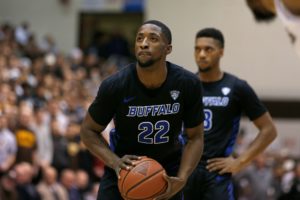 Courtesy of UBBulls.com
BUFFALO, N.Y. – The University at Buffalo men's basketball team used a 24-3 first half run as the Bulls defeated their cross-town rivals Canisius on Saturday night, 87-72.  It was the first time in six years that the Bulls had played a game at the Koessler Athletic Center and it was their first win at the KAC since 2010.  With the victory, the 21st ranked Bulls end non-conference play with a 12-1 record. It is Buffalo's first 12-1 start since 1962-63.
Canisius got out to a quick start to the game as the Griffs took a double-digit lead just eight minutes into the game at 23-13.  However, the Bulls erased the deficit scoring the next 13 points and they never trailed again.  UB hit three straight three pointers coming from seniors CJ Massinburg and Jeremy Harris, as well as sophomore Jayvon Graves.  Massinburg then converted on back-to-back layups to put Buffalo ahead 26-23.
Three pointers from Davonta Jordan and Harris gave the Bulls their largest lead of the first half at 37-26.  Canisius was able to pull back within six as Buffalo took a 41-35 lead into the break.
Another triple by Jordan extended the lead back to 11 just over two minutes into the second half and a jumper from Harris put Buffalo ahead 54-39.  Canisius never got any closer than 11 in the second as the Bulls started to pull away late.
Graves, playing on his 20th birthday Saturday night, converted on a thunderous alley-oop on a pass from Dontay Caruthers (East) with 6:30 left and then Caruthers put the exclamation point on the evening, throwing down a fast-break dunk over a Canisius player with 3:30 left, giving the Bulls a 78-62 lead.
Dontay Caruthers showing some serious hops tonight!!

Check out this thunderous dunk against Canisius#SCtop10 #UBhornsUP | #UBLegendary pic.twitter.com/Az7xC7HrhV

— UB Men's Basketball (@UBmenshoops) December 30, 2018
"We are trying to get better defensively and tell our guys that every possession matters so we have some stuff to work on there and in the rebounding department," said head coach Nate Oats.  "But we were really good on offense and that pulled us through tonight."
Massinburg led all scorers with 22 points, while adding seven rebounds and three assists.  Senior Nick Perkins added 18 points and nine rebounds as he moved up to seventh place on UB's all-time scoring list, surpassing both Sam Pellom and Turner Battle tonight.
Harris had 17 points, nine rebounds, three assists, and two blocked shots as he filled up the stat sheet for the Bulls.
Graves had 10 points, while Jordan added eight points, four rebounds, and two assists. Caruthers finished with eight points and a game-high six assists.
UB shot 50 percent from the floor as a team and 44 percent from three as they went 11-of-25 from behind the arc. Massinburg and Harris combined for seven of those 11 three-pointers.
Jeenathan Williams (UPrep) contributed two points and two rebounds off the bench.
The Bulls will now turn their attention to Mid-American Conference play as UB concludes a four-game road trip on Friday night at Eastern Michigan in the MAC opener for both schools.  The game will tip at 9:00 pm and it will air live on CBS Sports Network.