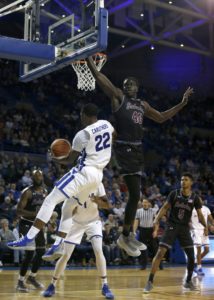 Courtesy of UBBulls.com
BUFFALO, NY – The University at Buffalo men's basketball team remained unbeaten on Saturday afternoon as the Bulls picked up their 10th straight win with a 73-65 win over Southern Illinois.  The victory clinched the season sweep of the Salukis as these two teams met in Carbondale on Nov. 12.  The Bulls, who are currently ranked 14th in the country, will now take their 10-0 record to Carrier Dome on Tuesday evening.
The Bulls led for nearly the entire afternoon, but were never able to pull away from a pesky Southern Illinois squad.  With the game tied at 8-8 early, Buffalo scored 17 straight points, 11 of those coming from senior Nick Perkins.  The Bulls led by as many as 19 points in the first half following a layup from senior CJ Massinburg, but then UB struggled offensively with the SIU zone defense.  During that stretch, the Salukis were able to pull all the way back within five, which was the halftime different at 33-28.
UB led by seven in the second half at 38-31 early when they went on an 11-2 run as a fast break layup from Massinburg pulled UB ahead, 49-33.  Another three-pointer from Perkins gave the Bulls their largest lead of the game at 59-39 with 10:46 left, but the Salukis again fought back, pulling back within seven with just 4:18 left.
The Bulls responded by scoring six straight points, the first four coming from junior Davonta Jordan.  The Bulls moved back ahead by 13 at 70-57 with 2:24 remaining and Buffalo held on for the eight-point victory.
"I thought our energy was pretty good there when we built that lead up in the first half and then they went zone and we didn't do a very good job of attacking that so we need to get that figured out here over the next two days," said head coach Nate Oats. "We were better in the second half, but I give them [Southern Illinois] a lot of credit.  They could have folded after a tough loss on Wednesday and then getting down early, they could have easily quit, but they fought through it.  I thought Perkins played maybe his best game of the year and I told him before the game that it has been like a month since his last double-double and it was time to get another one."
Perkins led all scorers with 20 points on the afternoon, while adding 11 rebounds, including four of those on the offensive end.  Massinburg added 14 points, five rebounds, and three assists.
Jordan finished with 11 points, all in the second half, while also adding four assists.  He also drew numerous charges in the contest as him and senior Dontay Caruthers combined to draw seven charges in the game.  Caruthers added nine points and three assists.
Freshman Ronaldo Segu added six points, while senior Jeremy Harris had four points, three assists, and three blocked shots.
The Bulls forced Southern Illinois into 22 turnovers for the game as UB scored 23 points off those turnovers.  On the Buffalo side, UB had 10 turnovers, but had 19 assists on their 27 made baskets.
Buffalo has now won 10 straight games for the first time since the 1964-65 season.
The nationally-ranked Bulls will now begin a four-game road trip, which will close out non-conference play and open league competition.  That road trip begins on Tuesday night when the Bulls will face Syracuse in the Carrier Dome.  That game will tip at 8:00 pm and it will air nationally on ESPN2.