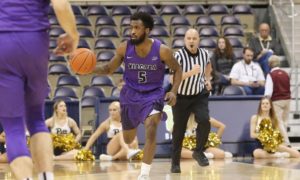 Courtesy of PurpleEagles.com
EDISON, N.J. – James Towns has been named MAAC Player of the Week announced on Monday for the first time in his career.
Towns averaged team-highs in points with 17.5 per game and in assists with 7.5 per game while averaging 6.0 rebounds as the Purple Eagles went 2-0 with wins at Pitt and at home versus New Hampshire. Towns shot 61.9 percent from the field for the week, including a season-high 69.2 percent against New Hampshire.
In the victory at Pitt on December 3, Towns had 12 points, dished out a career-high nine assists and grabbed six rebounds. Towns led all scorers with a season-high 23 points, including the game-winning basket, to lift Niagara over New Hampshire on December 9.   Towns also led the game in assists with six and had six rebounds.
The Purple Eagles are back at the Gallagher Center to take on Cornell on Sunday, December 16 at 2 p.m.
Read the complete MAAC release here.