Courtesy of RITAthletics.com
ROCHESTER, NY – The RIT men's hockey team continues its homestand with a pair of contests against Atlantic Hockey rival Sacred Heart University on Friday, Dec. 7 and Saturday, Dec. 8. Friday's game from the Gene Polisseni Center begins at 7:05 p.m., while Saturday's contest gets underway at 5:05 p.m.
Friday is the second free ticket giveaway for all RIT students (first-come, first-served, one ticket per valid ID and must be picked up at the GPC Box Office). After Saturday's game, RIT will hold its annual Skate With the Tigers event. At Skate With the Tigers, fans will receive a team picture and can obtain autographs from all members of the Tigers. A limited number of skates will be available to use free of charge at the Polisseni Center, but fans are encouraged to bring their own skates.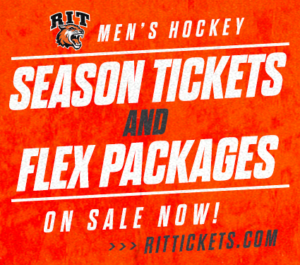 RIT is in the midst of playing eight out of nine games on home ice to end the fall semester. RIT is 3-2-0 during that stretch and will also host Niagara University on Dec. 15.
RIT (6-6-1, 4-4-1 AHA) is looking to get back into the win column after dropping a pair of home contests to Air Force last weekend. RIT fell 3-1 on Friday night and 3-0 Saturday. Dan Willett (Bayville, NY/Bloomington Thunder) scored RIT's lone goal on Friday. Goaltender Logan Drackett (Calgary, Alberta/Calgary Canucks) made 47 saves in the two games.
Abbott Girduckis (Belleville, Ontario/Wellington Dukes) leads the team in scoring through 13 games this season with 12 points on five goals and seven assists. Jake Hamacher (Corona, CA/Dubuque Fighting Saints) is right behind with 10 points, while Erik Brown (Keene, Ontario/Kemptville 73's) has a team-best six goals. Gabe Valenzuela (Brampton, Ontario/North York Rangers) is among the national leaders in face-off winning percentage, at 59.2 percent. Drackett has played in all 13 games in net and has a 2.22 goals against average and a .923 save percentage.
Sacred Heart (3-8-2, 3-6-1 AHA) is coming off a home split versus Robert Morris last weekend. The Pioneers knocked off Robert Morris, 2-1 on Friday, before losing by the same score Saturday. Sacred Heart is 1-5-1 over its last seven games. Matt Tugnutt, Austin Magera and Marc Johnstone are all tied for the team lead with seven points apiece. Jason Cotton has a team-best four goals. In net, Brett Magnus has played in nine games, with a 2-6-1 mark, 3.17 goals against average and an .896 save percentage. Josh Benson, who played both games last weekend versus Robert Morris, is 1-2-1 with a 1.70 goals against average and a .936 save percentage.
RIT leads the all-time series between the two schools, 24-9-2. This is a rematch of the 2018 Atlantic Hockey First Round series in which Sacred Heart won in three games. The Pioneers won three of five meetings between the two schools in 2017-18. The two teams also meet at Webster Bank Arena in Bridgeport, Conn. on Feb. 15-16. Brown leads all active Tigers in career scoring against Sacred Heart with eight goals and 13 points in nine games.
Both games will air on CW Rochester (Tape delay on Friday at 10 p.m., and Saturday live on Digital – 13.2, DirecTV – 14 and Spectrum – 16) and stream live with Gene Battaglia and John DiTullio on the call from the Polisseni Center. The pregame show with host Kevin Roche airs Saturday at 4:30 p.m. In addition, both contests will be aired on WITR 89.7 FM and Fox Sports 1280 with Ed Trefzger and Scott Biggar on the call. Live stats are also available.