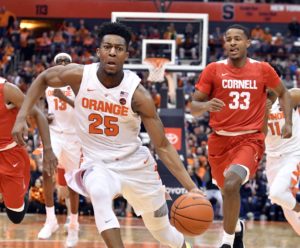 Courtesy of theACC.com
GREENSBORO, N.C. (theACC.com) – Syracuse junior Tyus Battle has been named the Atlantic Coast Conference Basketball Player of the Week, while Duke's RJ Barrett earned Freshman of the Week accolades.
ACC weekly honors are determined by a vote of a 15-member media panel and are announced on Mondays throughout the regular season.
Battle averaged 23 points and 4.0 rebounds in Syracuse's road win at No. 16 Ohio State in the ACC-Big Ten Challenge and this past Saturday's victory over visiting Cornell.
Battle played the full 40 minutes in the 72-62 win at Ohio State, knocking down 6-of-10 shots from the floor and going 7-for-8 from the foul line.
The Edison, New Jersey, native followed up with 26 points in the 63-55 win over Cornell. Battle played 36 minutes against the Big Red and went 10-for-17 from the floor, including 4-for-6 from 3-point range. Battle, a candidate for the Naismith Trophy as well as the Olson, West, Wooden and NABC Player of the Year awards, also made two of his three free-throw attempts and pulled down five rebounds in Saturday's game.
Barrett averaged a team-best 24.0 points and 8.0 rebounds in a pair of dominant wins over Indiana in the ACC/Big Ten Challenge (90-69) and Stetson (113-49) as No. 3 Duke improved to 7-1.
The rookie scored 22 points on 9-of-18 shooting with a game-high nine rebounds and two blocks in the win over Indiana – the Blue Devils' seventh-straight win in the ACC/Big Ten Challenge, which improve Duke to a Challenge-best 18-2 in the event.
The Mississauga, Ontario, native followed against Stetson with the first game in Duke history of 25-plus points, 7-plus rebounds, 7-plus assists and 4-plus steals. Barrett scored a game-high 26 points with seven rebounds, seven assists and four steals in just 18 minutes against the Hatters. He was 12-of-14 from the field in the Stetson win and was 21-of-32 (.656) from the field, including 4-of-8 from 3-point range for the week. Barrett is leading the ACC in scoring at 23.1 points this season.