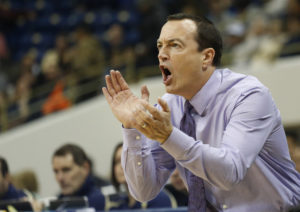 Courtesy of PurpleEagles.com
PITTSBURGH – The Niagara Purple Eagles used a total team effort to upset the ACC Pitt Panthers, 71-70, on Monday night.
The Purple Eagles led for the final 14 minutes and held off a late surge to come away with a monumental win for the program. Playing their third straight game without leading scorer and rebounder, Marvin Prochet, the Purple Eagles put together a comprehensive game plan to down the Panthers.
The opening nine minutes of the contest witnessed seven lead changes. Pittsburgh native Dominic Robb scored the game's opening points and NU led 3-0 two minutes into the game before the teams started alternating leads.
Pitt held a 33-27 lead with 2:27 left in the first half before NU reeled off a 7-0 run to close the period for a 34-33 halftime lead. Greg Kuakumensah connected on a 3-pointer to start the run, followed by jumpers by Robb and Towns.
The Panthers opened the half with a basket for the game's ninth lead change. Pitt had its largest lead of the second half at 42-38 with 16:58 remaining before the Purple Eagles took control thanks to a 13-2 run. A Keleaf Tate 3-pointer during the run provided the game's tenth and final lead change as NU led 46-44 with 14:27 left. A fast break jumper by Chris Barton capped the run for a 51-44 lead.
Niagara had its largest lead of the night, 64-52, after a Greg King dunk as the Purple Eagles headed into the final six minutes with a double-digit lead. Pitt trimmed Niagara's lead to 64-61 with 4:30 remaining, but Niagara answered with baskets from Robb and Greg Kuakumensah for a 68-62 lead.
The Panthers' Xavier Johnson made a jumper to cut the lead to 69-67 with 44 seconds left. After a Niagara turnover, Pitt missed a 3-pointer and a jumper on its next possession. Kuakumensah, then, made a pair of pressure free throws to extend the lead to 71-67 with 12 seconds left. Pitt connected on a 3-pointer to get within one point and forced a turnover on the en suing inbound. However, Johnson's potential game-winning layup rimmed out as time expired.
Tate tied a career-high in points with 17 to lead the Purple Eagles. Tate grabbed a career-high seven rebounds to share team-high honors. Kuakumensah scored a career-high 12 points and grabbed seven rebounds to share team-high marks. James Towns had 12 points, a career-high nine assists, and grabbed six rebounds. Robb scored 12 points, had five rebounds, swatted four shots, and had three assists.
 This is Niagara's first win versus a major conference opponent since beating St. John's, 77-73, on December 15, 2007. The Purple Eagles are the first MAAC team to beat an ACC team since Fairfield over Boston College in December 2016. Dominic Robb moved into second place on the career blocks list with his four-block game performance tonight. Robb surpassed Mark Henry ('89) and now has 184 career blocks.
The Purple Eagles shot a season-high 48.2 percent from the field and 42.1 percent from behind the 3-point line. Pitt held five of their previous seven opponents to under 40 percent shooting from the field. Niagara forced a season-high 18 turnovers, outrebounded the Panthers (38-31), and outscored Pitt in the paint (28-20), in second chance points (14-2) and in bench points (22-17). Pitt suffered only its eighth defeat in 155 non-conference games at the Petersen Events Center. Niagara also snapped Pitt's 12-game winning streak against unranked non-conference opponents at home and the Panthers' 10-game win streak against MAAC opponents.
Up Next
Niagara returns home to face New Hampshire on Sunday, December 9 at 12:30 p.m. for the first of two straight contests at the Gallagher Center.