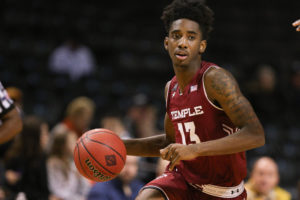 Courtesy of SJUHawks.com
PHILADELPHIA – Shizz Alston, Jr., and Quinton Rose (Bishop Kearney) scored 15 points apiece as Temple (7-1; 2-0 Big 5) rallied to defeat Saint Joseph's, 77-70, in a Philadelphia Big 5 game at soldout Hagan Arena.
Saint Joseph's freshman Jared Bynum scored a career-high 23 points for the Hawks (4-4; 0-1 Big 5) while Charlie Brown, Jr., tallied 18. Lamarr Kimble added 12 points for SJU.
Rose connected one time behind the arc and converted on all six of his free throw attempts. The junior guard handed out five assists while collecting two steals and a rebound.
With the game tied at 60-60, Temple hit three consecutive three-pointers, and one by Alston with 2:15 to play gave the Owls a 69-60 lead and seal the win.
Temple trailed by as much as 11 points late in the first half and 41-33 at halftime. But in the first four minutes, the Owls cut the deficit to 46-42. Saint Joseph's went scoreless for a four-minute stretch allowing Temple to tie it, 48-48, and then taking a 50-49 lead on a layup by De'Vondre Perry at 10:13.
Bynum paced SJU in the first half, scoring 15 points on 4-for-4 shooting, as the Hawks went up by 11, holding a 36-25 lead with 1:59 to play.
Temple's bench outscored the Hawks, 24-7, and the Owls held a 44-35 rebounding edge. SJU was without leading rebounder Pierfrancesco Oliva for almost the entire second half after he suffered a possible concussion.
Neither team shot well in the contest, with both under 40 percent. But the Hawks converted only 29.2 percent (7-for-24) from three-point range, despite entering the game hitting 40 percent on the season.
The game marked the final game between head coaches and good friends Phil Martelli and Fran Dunphy, as Dunphy will be retiring from Temple at the end of the year. Dunphy received a standing ovation from the SJU fans at the start of the game while the Hawk student section held a rollout saying, "Fran Dunphy = Big 5 Legend".