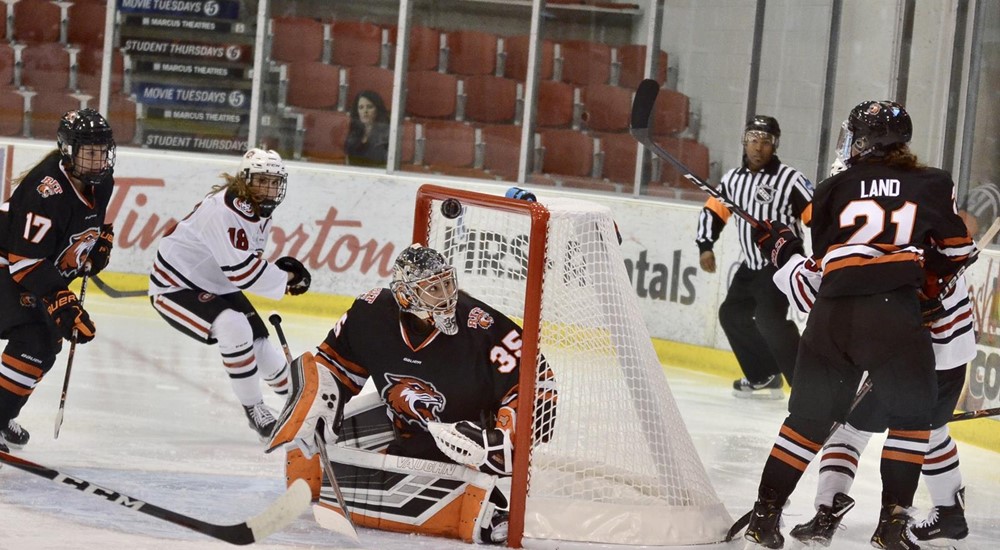 Courtesy of RITAthletics.com
SYRACUSE, NY – The RIT women's hockey team (3-6-4, 1-2-0 CHA) scored four goals in a span of 7:34 late in the third period to rally from a 4-2 deficit and stun College Hockey America rival Syracuse University (4-8-0, 4-3-1 CHA), 6-4 at the Tennity Ice Pavilion Friday night. RIT extended its unbeaten streak to three games with the win.
Emma Polaski gave Syracuse a 4-2 lead early in the third period with her third goal of the evening. With 8:22 left in regulation, Claudia Black took a feed from Ellie Larson in front and slid a backhand around Syracuse goaltender Maddi Welch to cut the Orange lead to 4-3.
Kathryn Kennedy tied the game, using her awareness to jam in a loose puck at the side of the et after Welch lost sight of it with 3:23 remaining in regulation. Just 35 seconds later, Taylor Baker gave RIT the 5-4 lead, firing a shot towards the net from the right point that was going well wide before deflecting off a Syracuse player and over Welch. With Welch pulled for the extra attacker in the final minute, Syracuse was trying to maintain possession in the RIT zone with a forward firing a pass back to the point. That pass went over the defenseman's stick and all the way into the open net for the RIT goal. Logan Land would be credited with the goal.
Land, who also gave RIT a 2-1 lead midway through the second period, led RIT with a pair of goals. Kendall Cornine, Black and Baker added a goal and assist apiece. Goaltender Terra Lanteigne, who entered tonight as the national leader in saves, added 38 more, including 20 in the second period.
Polaski recorded the hat-trick and added an assist for the Orange. Lindsay Eastwood added a goal and two assists, while Allie Munroe dished out a pair of helpers. Welch made 13 saves on 18 shots.
Syracuse out-shot RIT, 42-19, including a 23-4 mark in the second period. RIT held a 9-8 edge in the final period. RIT was 1-for-5 on the power-play, while Syracuse was 1-for-4.
RIT scored six goals in a game for the first time since Oct. 11, 2013, a 6-0 win over Vermont. The Tigers scored four goals in a period for the first time since Jan. 19, 2013.
Tonight's game was the first of four meetings between the two schools this season. RIT and Syracuse will also meet on Jan. 11, 2019 from the Gene Polisseni Center and play a home-and-home series on Feb. 15-16.
Syracuse leads the all-time series between the two schools, 19-8-2. RIT knocked off the Orange for the first time since Jan. 22, 2015, snapping an 11-game winless streak against them.
RIT is right back in action with a pair of road games at CHA foe Penn State University on Tuesday, Nov. 20 and Wednesday, Nov. 21. Tuesday's game from Pegula Ice Arena starts at 6 p.m., while Wednesday's contest begins at 3 p.m.