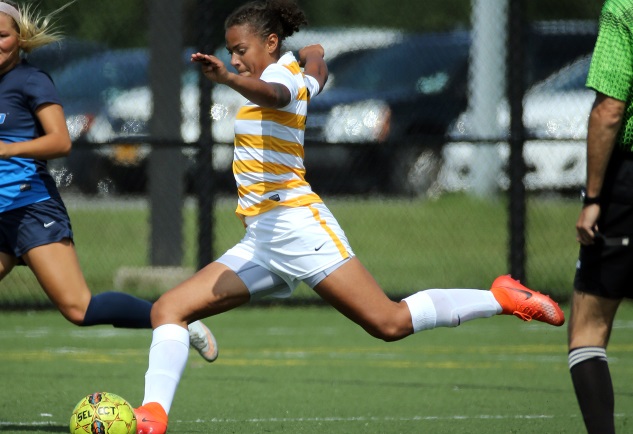 Courtesy of MCCTribunes.com
FOLEY, Alabama – On the strength of a thoroughly dominant opening half, the MCC women's soccer team dispatched Moraine Valley Community College 6-0 in Monroe's pool play opener at the NJCAA Division I national tournament Tuesday morning.
The eighth-seeded Tribunes (15-4-0) will face top-seeded Tyler at 11 a.m. Eastern on Wednesday, with a spot in the national semifinals on the line.
Monroe put on a breathtaking display of soccer in the opening 45 minutes. Playing through a driving rain and unrelenting wind, the Tribunes were still able to move the ball effectively to create scoring opportunities. Roosa Ariyo, the nation's leading goal scorer, found the back of the net twice in a span of three minutes and 31 seconds to stake MCC to a 2-0 lead.
Ariyo's first goal came off a terrific through pass from Thenia Zervas in the 15th minute. Katrina Yencerhelped set up the second as she sent a centering pass to Ariyo, who toe-tapped around a defender and scored.
Yencer then got in on the act herself, registering a pair of goals to make it 4-0. Ariyo tacked on another in the 41st minute to complete the hat trick and send Monroe to the locker room with a commanding lead.

Yencer finished off her own hat trick in the 58th minute after the Cyclone keeper got caught too far away from the goal. Ariyo assisted on the play.
Meryl Wakefield finished with four saves in 80 minutes of action for the Tribunes. She teamed with Madison Mikula for the shutout.
Tribunes open nationals with rout of Moraine Valley added by admin on
View all posts by admin →