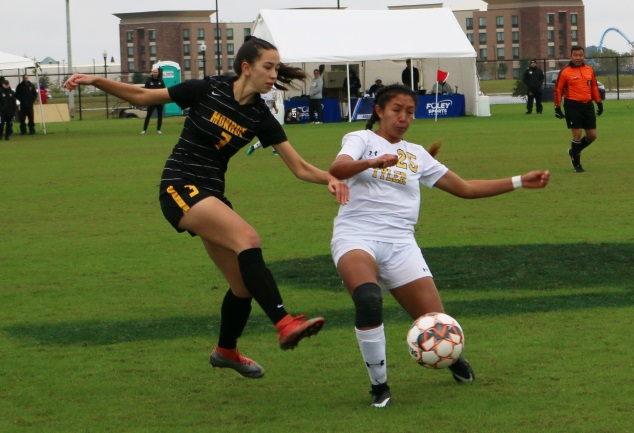 Courtesy of MCCTribunes.com
FOLEY, Alabama – The MCC women's soccer team ran into a buzzsaw in the form of top-seeded Tyler Junior College on Wednesday, as the defending national champion Apaches defeated the Tribunes 5-1 in pool play action at the NJCAA Division I national tournament.
Tyler advances to the national semifinals. The Tribunes finish their season with a record of 15-5-0.
The Apaches controlled the match from the outset. Tyler was poised to get on the board early, but a pair of point-blank stops by Monroe keeper Meryl Wakefield kept the game scoreless.
Tyler then broke through in the 20th minute for a 1-0 lead. The Apaches scored again in the 33rd minute, and later in the 43rd, to take a 3-0 lead into the locker room.
The lead was 4-0 when MCC got on the board in the 79th minute. Katrina Yencer took advantage of a turnover and beat the Tyler keeper to the free ball, where she deposited it to break the shutout.
Tyler responded less than a minute later, however, knocking in a rebound off a penalty kick that hit the bar to provide the final margin.
Tyler outshot Monroe 26-6 on the game. Wakefield finished with eight saves for MCC.