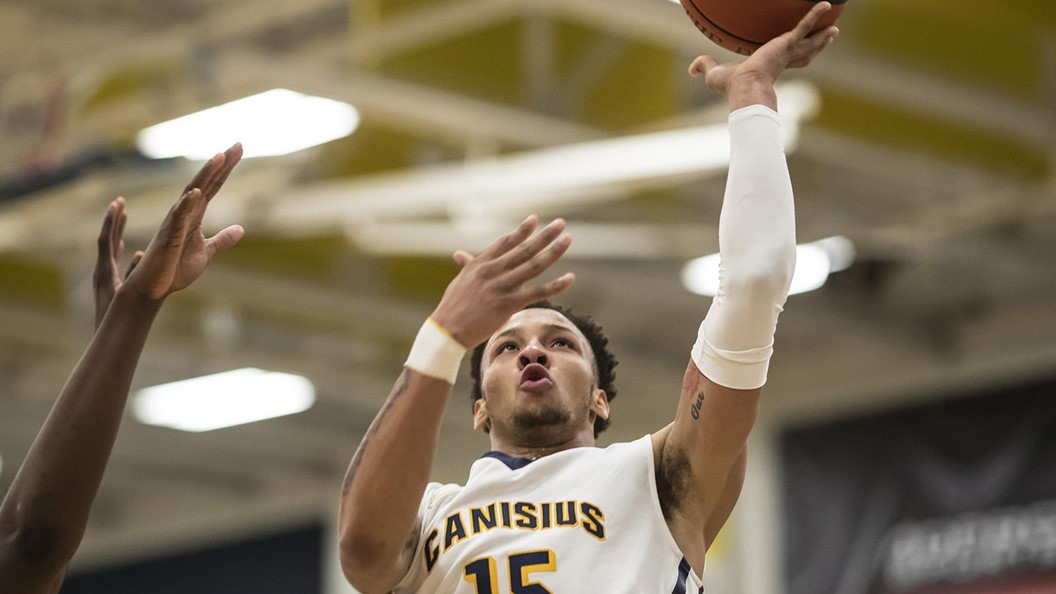 Courtesy of GoGriffs.com
LEWISBURG, PA — Canisius sophomore Takal Molson matched a career-high with 25 points while juniors Isaiah Reese and Malik Johnson chipped in 15 and 11 points, respectively, as the Golden Griffins opened the 2018-19 season on the road with an 82-73 victory at Bucknell Tuesday night in Lewisburg, Pa.
The win in the season opener for the Griffs is the program's first since the 2014-15 season, while the Bison fell to 1-2 on the year with the loss.
Molson scored 15 of his game-high 25 points in the game's second half, and he also grabbed seven rebounds to go with three assists and three steals.
"We knew coming in that Bucknell is the type of team that is not going to quit, and they showed that in the second half," Canisius coach Reggie Witherspoon said. "We came out and shot it really well in the first half, but we got a little stagnant on offense in the second half. I was trying to work with some different line-ups and combinations to find that offensive flow, and we weren't able to get that rolling, which helped them."
Reese added six boards and two assists to his final stat line, while Johnson, who scored eight of his 11 points after the halftime break, added four rebounds, three assists and two steals to the winning cause.
"We've talked all preseason about being mentally locked-in for 40 minutes, and I thought our guys showed some toughness there down the stretch when they got close. It's obviously nice to win the first game of the year, and to do it against a good team like this on the road makes it even better."
Senior Jonathan Sanks scored nine points off the bench for the Blue and Gold, while sophomore Scott Hitchon matched a career-high with eight points in his second career start. For the game, the Griffs shot 45.6 percent from the field, 45.5 percent from 3-point land and 80 percent from the charity stripe.
For Bucknell, Jimmy Sotos had a team-high 23 points to lead four Bison players in double-figures. Kimbal Mackenzie was good for 16 points while Paul Newman posted 13 points and seven boards for the home team. Bucknell shot 49.1 percent from the field for the game, but the Bison went just 11-for-20 from the free-throw line and turned the ball over 15 times.
Canisius used back-to-back 3-pointers from Molson and Faulkner midway through the first half to take a nine-point lead at 21-12, and the Griffs' cushion ballooned to as many as 17 points at 46-29 with 1:31 left before halftime when Johnson hit a pair of free-throws. In the second half, Canisius took a 59-39 lead just 4:22 into the frame on a bucket by Molson, but Bucknell started to mount its comeback attempt from there, and after a 3-pointer by Sotos with 7:45 left to play, Canisius led by just six at 63-57.
That would be as close as Bucknell would get in the game however, as the Molson scored the game's next four points to push the Blue and Gold's cushion back to 10 at 67-57 with 7:01 left to play. Bucknell hung around and whittled Canisius' lead to 68-60 with 5:00 showing on the clock, but a jumper by Molson and a 3-pointer from the corner by Sanks made the score 73-60 in favor of the road team.
Tuesday's game was the seventh all-time meeting between these two programs. Canisius leads the series 7-0. The win in the season opener moves Canisius to 78-35 in season openers (no records for the 1913-14 and 1918-19 seasons). The Griffs made 10 3-point field goals in the win. Canisius has now made 10-or more 3-pointers 66 times since 2012-13. Canisius improved to 23-6 under head coach Reggie Witherspoon when scoring 80-or more points in a game. Molson's previous career-high for points was set in the 2017-18 season opener when he had 25 points in a road loss at Buffalo. Sophomore Jalanni White joined Molson, Reese, Johnson and Hitchon in the opening night starting line-up. He scored six points and pulled down three rebounds in his fourth career start. Three players made their debut in a Canisius uniform on Tuesday, including junior Kejuan Johnson-Alls, who scored his first career point on a made free-throw late in the contest.
Canisius will open the home portion of its schedule Saturday, Nov. 17, when the team plays host to Albany in the Koessler Athletic Center. Tipoff is set for 3:30 p.m., and the game will be broadcast live on ESPN3. Prior to the game, Canisius will unveil its 2017-18 MAAC regular-season championship banner. For tickets, call (716) 888-TIXX, or click the tickets link on GoGriffs.com.