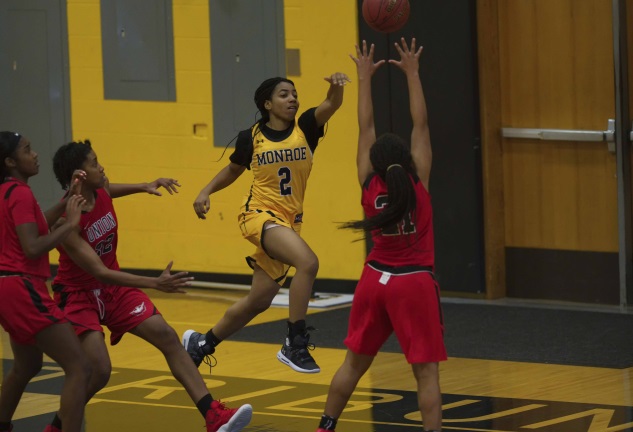 Courtesy of MCCTribunes.com
ROCHESTER – In a terrific matchup of two of the top teams in the nation, the No. 1-ranked MCC women's basketball team held off a valiant effort from No. 12 Union County College to win 64-60 in the finals of the sixth annual Murph Shapiro Tournament Sunday afternoon.
The Tribunes (3-0) built a 10-point lead at the break and held on down the stretch to hand the Owls (3-1) their first loss of the season.
Union took the lead at 54-53 on a layup by Yamel Abreu with 6:04 left in the game. Cierra Harrison responded with a 3-pointer to restore the Monroe advantage, and after an Owl turnover, Lyrik' Jackson also connected from deep to make it 59-54.
The teams went cold for a stretch, with Union hitting a few free throws to cut it to 59-57 with just over a minute left. But a pair of foul shots from Zorria West and one from Jamiya Eaddy made it 62-58 in favor of Monroe with time running out.
Union converted a layup with 12 ticks remaining to make it 62-60. Eaddy then threw the ball long after the ensuing inbound and found Khady Sarr for a wide open layup to provide the final margin.
Samirah Henderson came off the bench to score a team-high 14 points for Monroe. Jackson, Eaddy, and Zairea Hannah all added eight. Harrison chipped in with seven points, eight rebounds, and five assists.