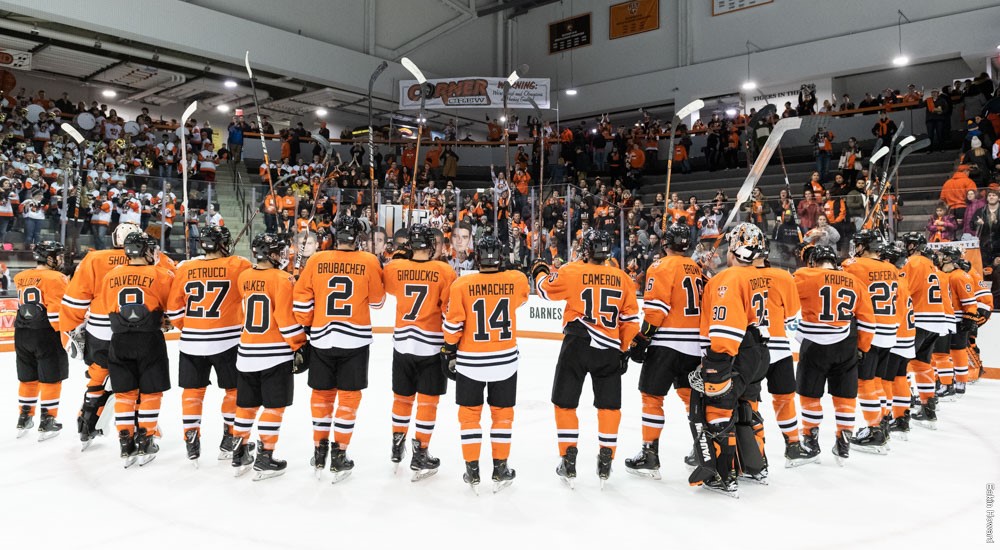 Courtesy of RITAthletics.com
ROCHESTER, NY – The RIT men's hockey team (4-3-1, 2-2-1 AHA) won its 2018-19 home opener, 2-1 over American International College (3-6-1, 3-3-1 AHA) in front of a sellout crowd of 4,300 orange clad fans in the home opener at the Gene Polisseni Center Friday night.
Darren Brady (Lake Orion, MI/New Jersey Titans) and Alden Dupuis (Edmonton, Alberta/Bonnyville Pontiacs) had a goal and an assist apiece, while Shawn Cameron (Sherbrooke, Quebec/Cumberland Grads) assisted on both RIT goals. Goaltender Logan Drackett (Calgary, Alberta/Calgary Canucks) was outstanding between the pipes, stopping 32 of 33 shots to be named first star of the game.
Hugo Reinhardt scored the lone goal for American International, while Stefano Durante made 24 saves in goal.
American International out-shot RIT, 32-26. Both teams were 0-for-5 on the power-play. The Tigers scored their third shorthanded goal of the season in the win.
"I can't say enough about the great support from our fans and university tonight," said RIT head coach Wayne Wilson. "It was a great atmosphere to play in front of. I thought our penalty killing and (Logan) Drackett were outstanding for us. It was a good team win for us."
RIT scored the lone goal in period one, holding a 12-10 edge in shots.
Brady had a great chance earmarked for the top right hand corner thwarted by Durante midway through the period. Moments later, Patrik Demel fired a shot through traffic off the rush past Drackett but off the right post and out.
Durante made his best save of the period with 4:33 left, robbing Adam Brubacher (Elmira, Ontario/Powell River Kings) with a slick glove save on a shot from the high slot after a giveaway.
RIT would open the scoring with its third shorthanded goal of the season with 2:49 left in the period, as Dupuis converted a perfect pass from Cameron a 2-on-1 for his second goal of the season. The play started when Brady deflected a centering pass in his own zone, which sent Cameron and Dupuis in on a 2-on-1 rush. Cameron feathered a pass over to Dupuis, who made a quick move on Durante and beat him top shelf under the crossbar from in tight for his second goal of the season.
Drackett stole the show in the second period, making four incredible saves to keep the Yellow Jackets off the board. First, he robbed Jared Pike on a hard, low shot from the slot 1:30 in. Moments later, Drackett slid across to get a glove up and deny Darius Davidson on a power-play. Drackett came up big, stopping Hugo Reinhardt on a shorthanded breakaway right after the midway point of the period and once again, denied Davidson as he got behind the RIT defense in the final minute of the frame.
Durante made his best save late on a RIT power-play with six minutes left in the frame, robbing freshman Zach Salloum(Orleans, Ontario/Ottawa Jr. Senators), who was making his collegiate debut, with a glove save through traffic.
The Yellow Jackets would finally solve Drackett 4:09 into third period, as Reinhardt was the benefactor of a thrilling end-to-end rish from Janis Jaks. Jaks skated through three Tigers on the rush and threaded a pass across to Reinhardt, who was able to beat Drackett from in close for his third goal of the season.
That goal seemed to energize RIT, who nearly scored a minute later, as Gabe Valenzuela (Brampton, Ontario/North York Rangers) took advantage of an AIC turnover in front of its own net and beat Durante up high, but the puck glanced off the crossbar and out. Play would continue for the next minute with RIT gaining possession after a line change in the Yellow Jackets zone. Cameron would feed Dupuis who cut behind the net and sent a pass back out to the point. Brady would fire a one-timer from right point through traffic and past Durante for his first goal of the year and first in 35 games dating back to March 4, 2017.
Drackett continued to shine, making a handful of big saves over the final 13 minutes. AIC pulled Durante with just under two minutes left, but RIT did a great job limiting quality chances, holding on for the win.
Tonight's game was the first of four meetings between the two schools this season. RIT and AIC will play tomorrow night and once again in Springfield, Mass. for two contests on Jan. 11-12. RIT leads the all-time series between the two schools, 31-6-3.
Tonight's sellout was the second at the Gene Polisseni Center since opening in 2014. RIT also sold out the new arena on Oct. 24, 2015 vs. Colgate.
RIT and American International complete the weekend series tomorrow evening from the Gene Polisseni Center with a special 5:05 p.m. opening puck drop. The Tigers are also home on Tuesday evening versus Canisius College at 7:05 p.m.