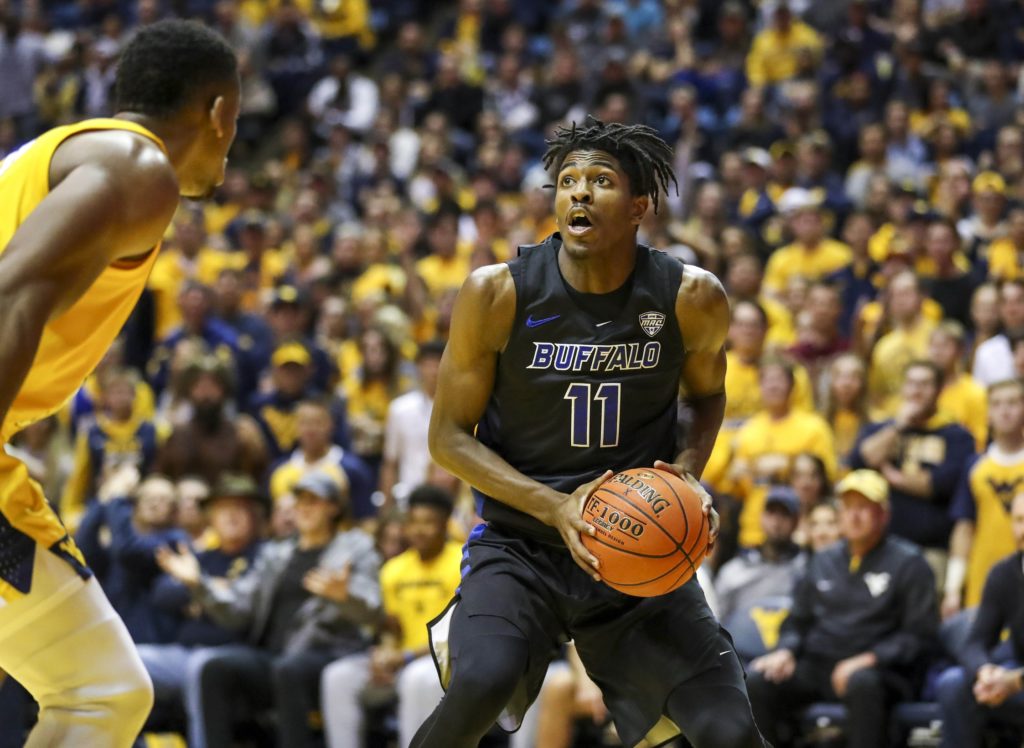 Courtesy of UBBulls.com
MORGANTOWN, WV – Behind a career night from CJ Massinburg, the University at Buffalo men's basketball team had the statement win of the college basketball season on Friday night as the Bulls picked up their first ever win over a ranked opponent with a 99-94 overtime victory at No. 13 West Virginia.  Massinburg set the Buffalo school record for points in a road game with 43, while adding 14 rebounds.
The Bulls didn't shoot well in the opening half, but they used a stingy defensive effort, forcing their Big 12 counterpart into 19 turnovers for the game.  Despite playing against the heralded West Virginia full court press, the Bulls turned the ball over just three times in the second half and overtime combined.
Even with the impressive effort, the Bulls found themselves down 13 with 15:43 left in the game, but Massinburg and Buffalo took over scoring 63 points in the last 20 minutes and 30 seconds of action. Although UB started to find its scoring touch, the Mountaineers were answering every call as WVU still led by 13 with 7:20 left.  The Bulls scored seven straight to get back within six, but they again trailed by double figures with just under five minutes remaining.
West Virginia was unable to stop Massinburg though as he hit back-to-back threes, putting the Bulls back within two at 81-79 with 2:59 left.  The Mountaineers continued to lead by five with just 1:07 left when senior Jeremy Harris hit a jumper with 51 seconds remaining, pulling UB within three.  The Mountaineers turned it over on their next possession and the Bulls got the ball back with 32 seconds left.  Following a Buffalo offensive rebound, Massinburg connected from long distance, tying the game up with just 16 seconds left.  A final attempt from WVU was no good and the two teams went to overtime.
Buffalo dominated the extra period as the Bulls went on a 9-0 run in overtime, including seven straight points. A dunk from sophomore Jayvon Graves gave the Bulls their largest lead of the night at 97-87 with just 48 seconds remaining and the Bulls held on for the huge road victory, 99-94.
"This is not an easy place to play," said head coach Nate Oats. "We knew it was going to be tough. Bob Huggins coached teams are one of, if not the toughest, to play in the country. We didn't shoot the ball well early. I just told our guys to keep shooting and they would start dropping eventually. They finally started dropping for C.J. in the second half."
The 43 points from Massinburg are the second most in school history for points in a game and the most ever by a UB player in a road game.  He had 35 of those points in the second half and overtime as he went 9-of-15 from three-point range.  The nine three pointers are the third most in school history for a player. In addition to the 43 points, Massinburg had 14 rebounds, including seven offensive boards. He also added three assists and a block.
Harris just missed a double-double as he finished the night with 16 points and nine rebounds, while also adding five assists, a block and a steal.  Graves, who had a few Sportscenter Top 10 moments throughout the night, finished with 14 points.
Senior Nick Perkins added 10 points and nine rebounds, while fellow senior Dontay Caruthers had six points.  Junior Davonta Jordan had five assists and four rebounds, while also adding two steals.
Buffalo outrebounded West Virginia 50-46 on the evening, recording 17 second chance points and scoring 23 points off of Mountaineer turnovers.
UB shot 21-for-37 from the floor in the second half and overtime, while UB hit 15-of-16 free throws in the second half as well.
Buffalo will remain on the road Monday night when the Bulls will travel to Southern Illinois for another big non-conference test.  Tipoff is at 8pm EST and will air on ESPN+.