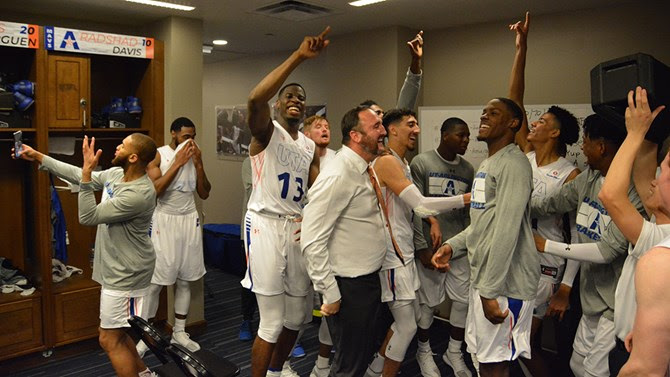 Courtesy of UTA Athletic Communications
ARLINGTON – Making his debut as a head coach, Chris Ogden's UT Arlington men's basketball team used an aggressive, up-tempo style of play to cruise to a 90-66 season-opening win over UT Tyler Tuesday night at the College Park Center.
UTA's starting five all finished in double-figure points, led by a game-high 20 from Edric Dennis. David Azore tallied 15, Patrick Mwamba and Radshad Davis each netted 13 and Brian Warren netted 11 as the Mavericks shot 43.7 percent from the floor (31-71).
Ogden – a former assistant at Texas, Texas Tech and Tennessee – was named the eighth head coach in program history this past spring and promised a fun, energizing pace of play, and the Mavericks delivered that en route to their 12th season-opening win in the last 13 years.
Entering the 2018-19 season with 12 newcomers – the 3rd-most in the nation – and just one returning scholarship player, the Mavericks knew they would need to rely on several new faces, and that's exactly what transpired on Tuesday evening as 82 of the club's 90 points came from players who weren't on the roster a season ago.
Trailing early in the 1st half, 11-6, UTA used a 21-0 run over 6+ minutes – punctuated by the team's first dunk of the season from true freshman Mwamba – to take a 27-11 lead at the midway point of the opening stanza. From there, the Mavericks led by double figures the rest of the way against the Division-III foe, stretching the cushion to as large as 33 early in the 2nd half.
OGDEN'S THOUGHTS
"We executed the game plan really well. We played with energy, passion and effort. The starters did a good job setting the tone energy-wise, and I thought DJ (Bryant) did a good job settling the guys down from a communication and discipline standpoint – which isn't surprising with his experience. I'm really proud of how much we got to the free-throw line; we did a good job attacking the rim. We probably settled for a few too many 3-pointers, especially in the 2nd half, but overall I'm really pleased with the effort, intensity and passion we played with tonight."
MARCHING TO THE STRIPE
UTA went to the free-throw line 26 times and made 21 of those attempts for an 80.8-percent rate. Junior Warren and redshirt freshman Azore both led the charge from the charity stripe, going 6-7 each.
NOTEWORTHY
UTA has now won its last five season openers, dating back to a 2013-14 setback at Boise State. That loss is the only season-opening defeat for the Mavericks since 2005-06.
The Mavericks are now 6-0 all-time against UT Tyler, with each of those victories coming by double figures.
INSIDE THE BOX SCORE
Jabari Narcis pulled down a game-high 11 rebounds to go along with six points in only 17 minutes … that was part of a 42-31 rebounding edge for the Mavs … UTA forced UT Tyler into 24 turnovers compared with 13 of its own, resulting in a 31-11 edge in points off those giveaways for the Mavs … the Mavericks held a 33-13 advantage in fastbreak points … in addition to his team-leading point total, Dennis issued four assists, but Bryant recorded a game-high in that category with five … Azore and Davis both pulled down six rebounds.
NEXT UP
UTA remains at the CPC for Homecoming on Saturday night as the Mavs take on perennial mid-major power Northern Iowa at 7 p.m. The Panthers defeated Bemidji State in their season opener Tuesday night, 97-51. The two teams met last year in Cedar Falls, with UNI coming away with a 62-58 win.