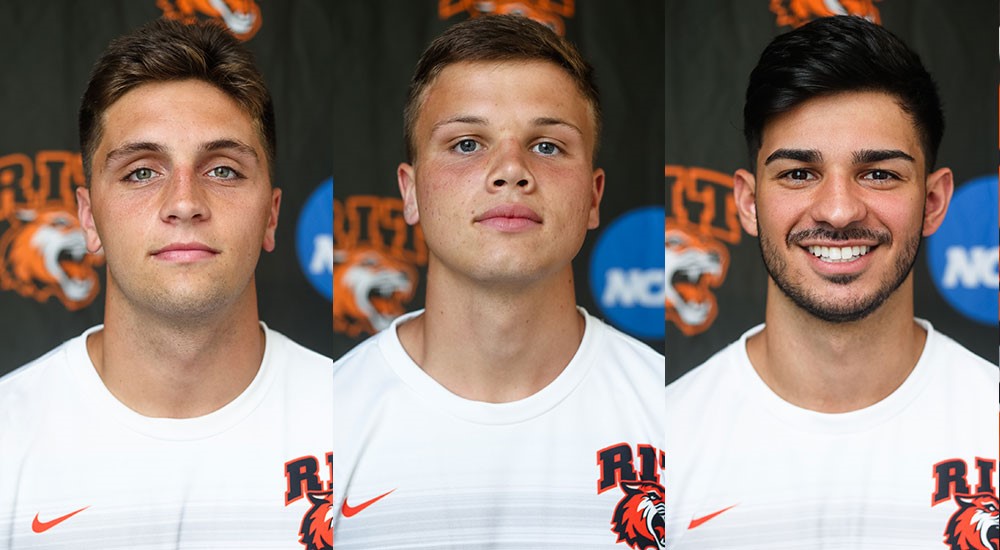 Courtesy of RITAthletics.com
ROCHESTER, NY — Three members of the RIT men's soccer team were selected to the 2018 Liberty League Men's Soccer All-Conference team announced on Tuesday, Nov. 6. Junior Simon Garno (Hilton, NY/Hilton) was a first team selection, while sophomore Nick Simone (Hilton, NY/Hilton) earned second team honors. Senior Anthony DeFeo (Rochester, NY/Hilton) was an honorable mention selection.
Garno, a 2017 first team All-Liberty League selection, started 13 games in 2018. He was second on the team and tied for eighth in the Liberty League with 12 points. He finished third on the team with five goals and tied for the team-lead with two game-winning tallies. Garno tallied a season-high two goals in a 5-0 win over Bard College on Oct. 20. He tallied the game winner in overtime in a 2-1 win versus Skidmore College on Oct. 13.
Simone led RIT and the Liberty League in scoring with 12 assists and 24 points. His 12 assists are second most in a season at the university. Simone finished in a tie for third in the league with six goals. He tallied two or more points nine times, including a season-best four points on a goal and two assists in a 5-1 win at Union College. Simone handed out a career-high three assists twice in wins over Houghton and Keuka College. Four of Simone's goals came on penalty kicks.
DeFeo started all 15 games for RIT in 2018. A co-captain, DeFeo finished fifth on the team in scoring with six points on two goals and two assists. DeFeo, a first-team All-Liberty League selection in 2017, tallied a season-high three points on a goal and an assist in a win over Bard College. He also tallied the game winner versus Rensselaer Oct. 12.
RIT finished 2018 with an 8-6-1 overall record.