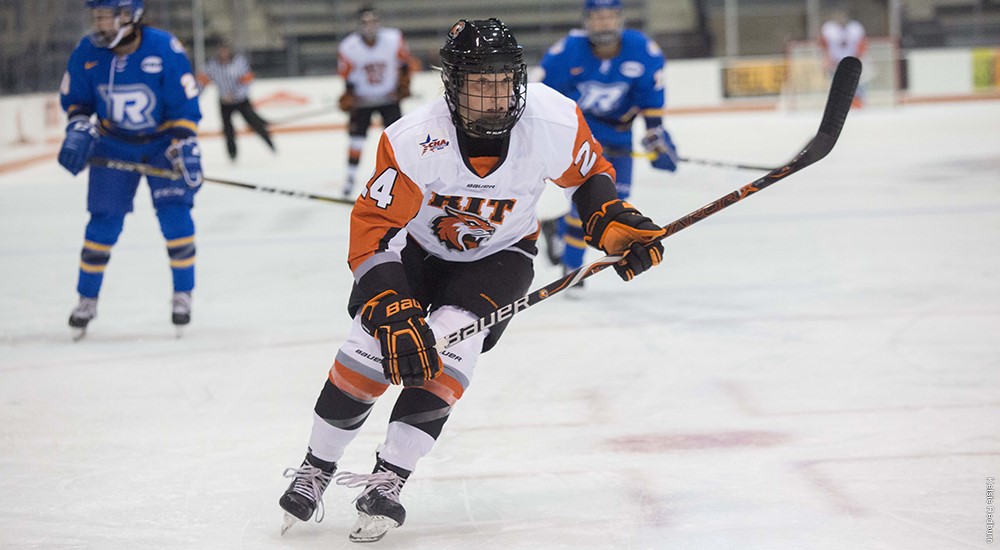 Courtesy of RITAthletics.com
TROY, NY – The RIT women's hockey team (1-3-3) skated to a hard-fought 1-1 tie against host Rensselaer Polytechnic Institute (1-3-2) from Houston Field House Friday afternoon.
Kathryn Kennedy (Hamilton, Ontario/) scored RIT's lone goal midway through the first period, while goaltender Terra Lanteigne (Hatchet Lake, Nova Scotia/Charles P. Allen) was excellent between the pipes, stopping 36 of 37 shots.
Sabrina Repaci scored for the Engineers late in the second period and goaltender Lovisa Sealander made 33 saves on 34 shots.
RPI held a slight 37-34 advantage in shots. The Engineers went 0-for-3 on the power-play, while not taking a penalty during the entire 65-minute game.
"For us, it's about establishing an identity, strong work ethic and compete level," said Bruce B. Bates Women's Hockey Coach Chad Davis. "We feel like we are taking steps in the right direction and have given ourselves an opportunity to win the series tomorrow with a victory."
RIT would score the only goal in a quickly played first period in which Rensselaer held a 13-12 edge in shots on goal.
Kennedy would get RIT on the board with her first goal of the season, just before the midway point, driving the net and swatting in a loose puck on the doorstep. Madison Itagaki (Glenview, IL/Chicago Mission) made a quick pass to Mallory Rushton (Amherst, Nova Scotia/New Hampton Prep), who darted into the Engineers zone. Rushton made a nifty toe-drag around a Rensselaer defender and fired a hard shot that Sealander stopped. Kennedy was in the perfect spot to put home the rebound and give RIT a 1-0 lead.
Lanteigne had to come up big late in the period, as she robbed Sabrina Repaci in front after a RIT giveaway behind its own net.
The Tigers would kill off a pair of penalties early in the second period.
Repaci would tie the game at 1-1 with 2:55 left in the second period, as she deflty redirected a hard pass from Jamie Grigsby over the shoulder of Lanteigne for her first goal of the season.
Both goaltenders stepped with several big saves in the third period. Kendall Cornine (Kinnelon, NJ/Morristown Beard) had a golden chance with about a minute left, as she was left all alone in front, but Sealander stood her ground to make a key save.
All three of RIT's ties this season have finished in the same score, 1-1.
RIT and Rensselaer will wrap up the weekend series from the Houston Field House on Saturday at 3 p.m.