Courtesy of RITAthletics.com
MOON TOWNSHIP, PA – The RIT men's hockey team (2-2-0, 0-1-0 AHA) dropped its Atlantic Hockey Association opener, 3-0 to host Robert Morris University (2-2-1, 1-1-1 AHA) at Colonials Arena on Friday night.
Robert Morris scored all three goals in the second period, as Geoff Lawson, Eric Israel and Daniel Mantenuto tallied for the Colonials. Goaltender Francis Marotte was tremendous in goal, stopping all 25 shots he faced for the shutout.
Erik Brown (Keene, Ontario/Kemptville 73's) led the Tigers with six shots on goal. Goaltender Logan Drackett (Calgary, Alberta/Calgary Canucks) took the loss in net, making 25 saves on 28 shots.
Robert Morris out-shot RIT, 28-25. The Tigers were called for eight penalties compared to five for Robert Morris. The Colonials were 1-for-8 with the man-advantage, while RIT's power-play, which entered tonight tied for third in Division I, was scoreless on five attempts with the extra man.
"We didn't have the energy or play with any desperation tonight," said RIT head coach Wayne Wilson. "Robert Morris was the better team tonight and now we have to bear down to try and get the split. We need to focus on a better work ethic tomorrow."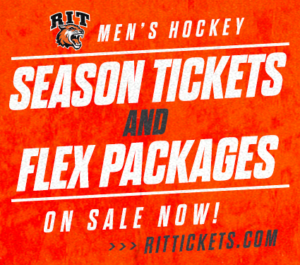 The Colonials came out firing early, putting heavy pressure on the Tigers defense. Alex Tonge fired a shot early on a power-play that rang off the crossbar. Drackett made two great saves on that same RMU power-play to keep zeroes on the board.  RIT's best chance came late in the opening period after Brown sent in a perfect pass to Abbott Girduckis (Belleville, Ontario/Wellington Dukes), who had a half step on his defender. Marotte was able slide across and make a big save. Later in the period, Drackett showed off his athleticism by skating way out of the net to breakup a Colonials attack.
The second period was RMU's from the start. The Colonials opened the 6:09 into the period, as Lawson was able to slide his own rebound through the legs of Drackett.
Both teams had goals nullified on long video reviews during the period. RIT had two golden chances on a power-play midway through the frame, but Marotte robbed both Brown with the glove from the right circle and Girduckis on a tip-in attempt from in close.
Robert Morris would grab a 2-0 lead on a 4-on-3 power-play with 8:44 left in the period, as Israel fired in a shot off a cross-ice feed from Tonge. Mantenuto would glide through the neutral zone and past the RIT defense to make it 3-0 with 5:10 left in the period, roofing a shot over Drackett from point-blank range.
RIT had two golden opportunities halfway through the third period. Junior Shawn Cameron (Sherbrooke, Quebec/Cumberland Grads) had a one-on-one with Marotte in close that the goaltender got a piece of to push the shot wide. Moments later, Brody Valette (Calgary, Alberta/Whitecourt Wolverines) took a pass from the point and fired a hard shot off the and out.
The Tigers are now 7-4-2 all-time in Atlantic Hockey openers.
Tonight marked the first of four games between RIT and Robert Morris this season. The all-time series between the two schools is knotted at 13-13-4. RIT had won eight of the last 10 meetings, including all four in 2017-18.
RIT and Robert Morris wrap up the weekend series on Saturday night from Colonials Arena at 7:05 p.m.