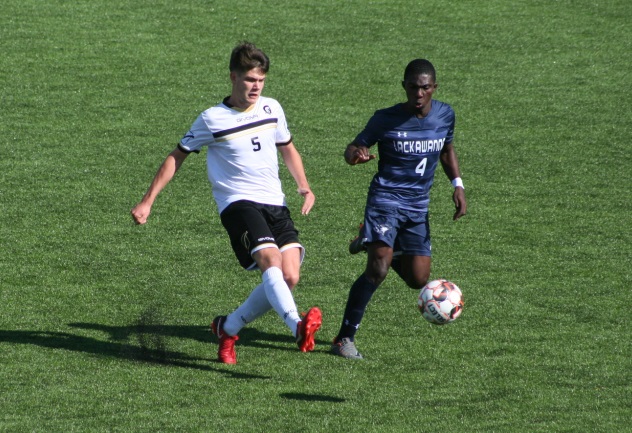 Courtesy of MCCTribunes.com
ROCHESTER – The MCC men's soccer team registered its fourth consecutive shutout victory with a 6-0 win over Lackawanna College Saturday afternoon.
Monroe (6-2-0) scored three goals in each half, and the defense held yet another opponent scoreless as the streaking Tribunes continued their winning ways.
Isaiah Lee had three goals for Monroe, which outshot the Falcons 19-2 on the day. Neither of Lackawanna's shot attempts were on frame, making for an easy afternoon for Tribune keeper Nic Fischer.
A big reason was another stellar performance from MCC's backline. Anchored by Andriy Demydiv, Eric Longhorn, Sulemane Sey, and Jacques Aristhenes, the Monroe defense pitched its sixth shutout of the season.
Lee got MCC on the board in the 13th minute as he punched in a beautiful cross from Cameron Welling. Lee then converted a penalty kick in the 30th minute to make it 2-0.
Lee helped create Monroe's third goal before the break. He beat a Falcon defender up the left side of the field and centered a pass in the box, where a sliding Daniel Stevenson knocked it in for a three-goal lead.
Welling and Anthony Short added goals in the second half before Lee finished off his hat trick to finish the scoring. Short added an assist, as did Sey and Jordan Sullivan.