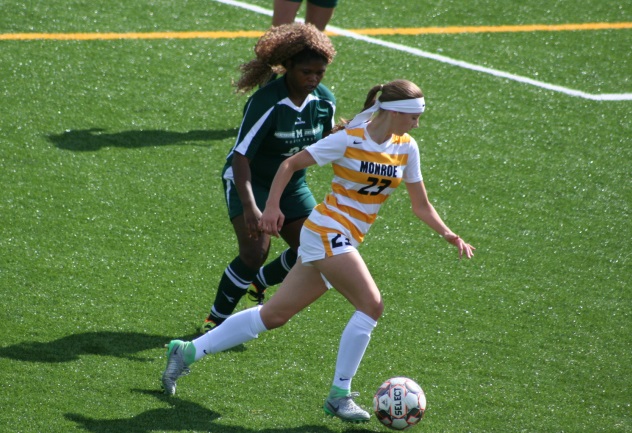 Courtesy of MCCTribunes.com
ROCHESTER – Roosa Ariyo set a single-game MCC record with eight goals to lead the 11th-ranked MCC women's soccer team to a 19-1 victory over Mercyhurst North East in a Region III, Division I matchup Saturday afternoon.
Ariyo broke the Monroe women's record of six, which she had reached on two separate occasions. Her total was also one better than the Tribune men's record of seven, set by current men's coach Nelson Cupello.
The eight goals were one shy of the NJCAA women's single-game record of nine, set by Elyse Lovelace of Northwest Mississippi in 2006.
The Tribunes dominated from the very beginning. The team scored two goals in a span of 26 seconds in the fourth minute and was off to the races.  MCC led 5-0 less than 10 minutes in, and 9-0 at the break.
Monroe held an incredible 53-2 edge in total shots.
Ariyo added two assists as part of her 18-point day. Thenia Zervas also had a career afternoon as she finished with four goals and six assists.
Paige McGrath and Katrina Yencer added two goals and one assist apiece, while Justina Meneses dished out five assists. Efi Brame had a goal and two assists, Samantha Ghysel added one goal and one helper, and Taylor Clark scored once.
Meryl Wakefield made one save in goal for Monroe. The Saints broke the shutout in the 86th minute.